Over the moon to be a part of Nic Parker's DESCENT TO HELL blog tour today! I absolutely LOVED this book and will share a bit of my review in the post below…however, you can read my full review HERE. 
Who would have thought that Lucifer could be so damn hot!? And not hot in the sense of "he lives in hell and is on fire hot"- I mean, OMFG I think I have a fictional crush on the devil kinda hot!  I asked Nic if she could write a guest post on this fantastic character and she kindly obliged…so let's find out a bit more about the author and this book before we find out more about …? LUCIFER…..
About The Author
Nic Parker was born in 1971 and her love for everything creepy and the horror genre started in her early childhood.
She lives with her husband and six cats in rural Rhineland-Palatinate.
Descent to Hell is her debut novel.
She is currently working on the sequel to Descent to Hell and a non-supernatural thriller set in sunny but deadly California.
About The Book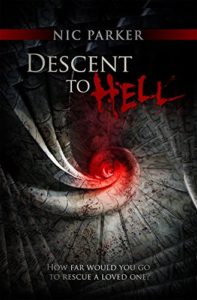 A man forced to enter mankind's most feared territory … a child dragged into the underworld!
When Charlie Ward's beloved niece is kidnapped by an atrocious demon he has to find the secret gateway into the one place every human wants to stay away from: Hell!
Armed only with courage and determination Charlie has to survive in a forbidding place filled with despair and anguish. He must face challenges no mortal should ever have to undergo that threaten to destroy his very soul.
#MiniReview
I gave this book 5⭐️'s because it was so unique, captivating and cleverly written – I was blown away! From my original review:
As a reader, we are forced (willingly of course…ahem…) to believe the unbelievable as we face fear, anger, pain, depravity, the knowledge that no one can be trusted but having to take a leap of faith, the unknown, love and a quest to find a missing child.
My interest was piqued right at the start – from the 666 steps to the Gateway to Hell through to the very last page where truth is discovered. A missing child, a suspicious uncle…sprinkled with a dark and dry dash of humour – what is not to like! What I loved about this book was the fact that it was not pure horror. The horror element is strong, but it had a crime fiction feel to it that made it a superb read for me. Don't get me wrong, there were some pure evil cringe moments, but also some (say with a whisper) *sexy stuff*, a bit of romance and a cracking crime/mystery to solve that just made this one of those books I devoured in hours rather than days/weeks.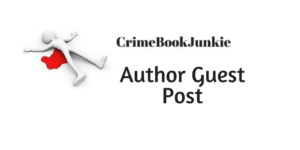 The Creation of Lucifer
by Nic Parker
When I conjured the first fragments of Descent to Hell in my mind Lucifer was already there. You can't write about hell without including the Devil, can you?
Even people who are not horror fans know about Lucifer Morningstar, Ruler of Hell, First of the Fallen and – like my Lucifer would add 'Blah blah blah' ?
In olden times, the devil was a welcome lore to threat kids and even grown-ups if they didn't behave. The Devil was often depicted with red skin, as a goat or with a goat's head – but almost always he is shown with a tail and hooves. There is a scene in Descent to Hell when Charlie meets Lucifer for the first time that deals with appearance or rather the lack of, and I hope it'll make the readers smile if not even laugh out loud.
The devil in disguise, the devil is in the details, better the devil you know, handsome or charming devil – Lucifer is omnipresent in our language and in everyday life.
The Devil is usually associated with being evil, cunning, awaiting you in hell with a lifetime of torment if you didn't behave well in your life. Of course we know it's all bullshit the Catholics came up with to keep their flock in line and my Lucifer is irritated by this and he mentions he is not responsible for false rumours people have been spreading about him for aeons.
I wanted my Lucifer to have traces of the devilish demeanour you'd expect yet I gave him new character traits and depth to make him appear more human instead of putting him above everyone and everything. I wanted the reader to be able to relate to my Lucifer, like a slightly arrogant and egotistical friend we all have that we still like. Lucifer takes what he wants but he knows boundaries and he has a heart, he is more scoundrel than arsehole.
Lucifer's exterior exudes the air of bygone Hollywood, he's the epitome of male elegance and – to use a very strained cliché – a handsome devil. And as I repeatedly heard, his charm is definitely working, as all the ladies who read the book are a bit in love with him.
The moment Charlie meets Lucifer in my book Charlie is intimidated by his handsome appearance, his coolness and the effortless way he carries himself. Charlie is a good-looking guy yet he thinks he could never compete with Lucifer's level of elegance and self-confidence. Not only women compare themselves to each other, it's also hard for guys to experience there are men that women flock to while they might be struggling to even ask a woman out.
Lucifer in my story is not omnipotent, he is juggling the chaos downstairs and he's stressed out for having to deal with all the different politics in Hell. He's furious about having to deal with demons who try to challenge him and he is worn down by his job and sometimes just wants to abandon it all – a very human character trait that many of us can relate to.
Lucifer may be slick, always aiming to get the best deal for himself but when he meets Charlie he acknowledges that this man is willing to give his own self up for the sake of another – Lucifer first pities Charlie for appearing in Hell like a 'saint without a plan' but soon he is amazed about Charlie's persistence and he warms to Charlie's humour. Lucifer also is no stranger to regret (we all know that feeling very well) and has learned to change through the aeons and is not being stuck in ancient behaviour.
The relationship of Lucifer and Charlie develops during the story and at the ending it has reached a point that will play a vital part in the sequel.
Speaking about the sequel, Lucifer will be one of the main characters again and I can't give too much away about him but he will be in dire straits. He has to learn that even if you figure you have thought about everything your past mistakes might eventually come back to bite you in the arse – big time!
Creating Lucifer and being able to explore this character further is an incredible pleasure for me and each time I am writing a scene in which he is present I wear a huge grin on my face.
Absolutely LOVE this post, Nic! Thanks so much. See what I mean, #bookjunkies!? I dare you not to fall in love with this guy! Grab a copy of Descent to Hell via amazon for only 99p at the moment! It is well worth a read! And follow the tour! Brilliant blog tour poster designed by Ivo Scheloske (https://schelotivity.deviantart.com/)