Eeeeeeeeek! I have been waiting TWO years to write a review on this book, so in case you haven't guessed, I am over the bloody moon to be taking part in the ever so awesome Graham Smith's THE KINDRED KILLERS blog tour today! Huge thanks to the superlicious Sarah Hardy for asking me to take part and to Bloodhound Books for providing me with an ARC. Make sure to stop by Aileen's blog at https://feminisialibros.wordpress.com/ as we close this badboy down! Let's do this!
About The Author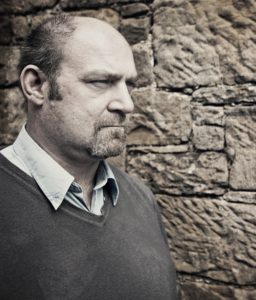 A time served joiner Graham has built bridges, houses, dug drains and slated roofs to make ends meet. Since Christmas 2000 he has been manager of a busy hotel and wedding venue near Gretna Green, Scotland.
An avid fan of crime fiction since being given one of Enid Blyton's Famous Five books at the age of eight, he has also been a regular reviewer and interviewer for the well-respected website Crimesquad.com since 2009
He is the author of four books featuring DI Harry Evans and the Cumbrian Major Crimes Team and now two books in the crime series featuring Utah doorman, Jake Boulder.
About The Book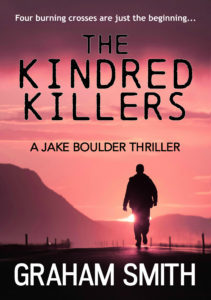 Jake Boulder's help is requested by his best friend, Alfonse, when his cousin is crucified and burned alive along with his wife and children. As Boulder tries to track the heinous killer, a young woman is abducted. Soon her body is discovered and Boulder realises both murders have something unusual in common.
With virtually no leads for Boulder to follow, he strives to find a way to get a clue as to the killer's identity. But is he hunting for one killer or more?
After a young couple are snatched in the middle of the night the case takes a brutal turn. When the FBI are invited to help with the case, Boulder finds himself warned off the investigation. When gruesome, and incendiary, footage from a mobile phone is sent to all the major US News outlets and the pressure to find those responsible for the crimes mounts. But with the authorities against him can Boulder catch the killer before it's too late?
My Rating: 5/5 – however, as I think this book is even BETTER than Watching the Bodies…it deserves 6/5 stars
⭐️⭐️⭐️⭐️⭐️
My Review:
OMFG What-A-Book!  I absolutely LOVED Watching The Bodies (read my full review HERE) but this book totally knocked that book out of the water!
Set in Casperton, Utah – the reader is faced with some hard-hitting themes: hate crimes; racism; bigotry; homophobia; abandonment; fear; relationships; discrimination – all of which get under the readers skin. What I love about Graham Smith's writing is the fact that he doesn't sensationalise these things – instead, he allows the reader to sit back and reflect on issues that are current, emotive and thought-provoking.
Jaysus! My heart was in my throat throughout this page-turning read -starting with the opening chapter! Once again, Mr Smith does not disappoint in delivering #AllTheFrigginBooms and making sure that the all important #killerhook grabs the reader right from the start.  This was a fast-paced, high action thriller that threw out so many WTAF-moments, my swear jar over-floweth! The writing is tight, focused, with a strong narrative and a scary realism that left me shivering with goosebumps. The killings were gruesome, but by no mean gratuitous and my kindle was on fire from all the mad-clicking to race through the pages!  Any real violence is left off the page and to the readers imagination, so if you cringe – blame yourself!
I am a big lover of characters, and Graham Smith is a master at creating characters that readers invest in.  We follow them through the pages, feel what they feel, and urge them to succeed (or in the case of baddies -fail) and most importantly, we always want to see them again!  This book is rich with said characters and I just wish I could mention them all!  But I won't – I will, however start with my fave — oh yeah, ladies and gents – Jake Boulder is back and there are #NoHoldsBarred as we see him tackle some tough murders that will have some readers wondering WTAF?! He is determined, loyal and fiercely protective.  And EEEEEK – wait until you see what happens with Jake – #NoSpoilers – but let me tell you ladies….there may be some…well, read the book….find out for yourself how that sentence ends!
Dr Edwards is firm becoming another favourite of mine.  I have a real soft spot for this character.  I love his quid pro quo way of working with Jake – they have this little psychological dance that draws the reader in and leaves them on tenterhooks, waiting for what will follow.  How much more can we learn about Jake?  Dr Edwards is the man to show us! Love it!
Taylor is a receptionist at Dr Edwards office.  OMG- she is amazing.  I want to be Taylor.  Smart, fun and she captures Boulder's interest – but how long can she keep it?  Boulder is not known for his commitment to the ladies….but there is something about Taylor and I just LOVED how this played out.  YAY!
Alfonse needs his #BFF as members of his family go missing and he has no trust in the Casperton police force.  The banter as well as the strong bond between Jake and Alfonse is brought to the forefront of this novel and we really see how much this pair really work well together despite some niggles that come with long-standing friendships.
The Augiers, Farrage, Boulder's mom Ivy and Chief Watson are supporting characters who really add to the story – though some more than others.  But the final one I want to…no NEED to mention is Ms Rosenberg – what a fantastic character!  I adored her crass, brass and sassy nature in Watching the Bodies.  All of these characteristics and more shine through in the second book of this awesome series.  I really can't say much about her without giving away spoilers – but I can say…WOW, Mr Smith…..just….WOW!
This book is not for the faint-hearted, but the kick will knock you flat on your backside and surely that is what you want in an action packed, crime thriller – right!? Have I already said that I LOVED Watching The Bodies? – well my bookish friends – I absolutely LOVE this one EVEN more and I knew from the moment I read this book that it was special. It is special, and it really sets the reader up for one hell of a journey! There is a lot of introspection as well – how we perceive things, people, the labels we use – all things that seem to be ingrained in us from an early age.  OMFG what an emotive, thrilling and utterly compelling read that has made me ever so excited!!!
Graham Smith– you have done it again and I cannot shout out about you, your writing and this series enough! I cannot WAIT to see what you have in store for Jake, Alfonse and the rest of the characters in the next instalment of the series….
#LeaderOfYourCheer
Grab a copy of The Kindred Killers here: