Thrilled to be taking part in Simon Lelic's THE HOUSE blog tour today! My thanks to

Penguin Books UK

for an ARC and for inviting me to be a part of the tour.  First though, before I share my thoughts on this book – let's find out a bit more about the author and this book!
ABOUT THE AUTHOR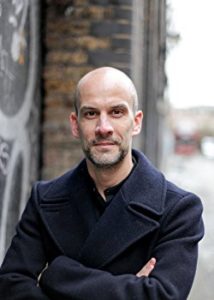 Simon Lelic is the author of The House, Rupture (winner of a Betty Trask Award and shortlisted for the John Creasy New Blood Dagger), The Facility and The Child Who (longlisted for the CWA Gold Dagger and CWA Ian Fleming Steel Dagger 2012).
The House is his first psychological thriller, inspired by a love of Alfred Hitchcock and Stephen King.
Simon is married, with three young children, and lives in Brighton, England. Other than his family, reading is Simon's biggest passion. He also holds a black belt in karate, in which he trains daily.
You can follow him on Twitter @Simon_Lelic.
ABOUT THE BOOK: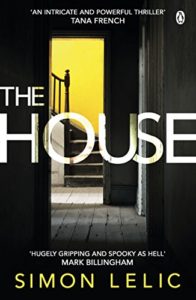 Londoners Jack and Syd moved into the house a year ago. It seemed like their dream home: tons of space, the perfect location, and a friendly owner who wanted a young couple to have it.
So when they made a grisly discovery in the attic, Jack and Syd chose to ignore it. That was a mistake.
Because someone has just been murdered outside their back door.
AND NOW THE POLICE ARE WATCHING THEM.
My Rating:

4/5
⭐️⭐️⭐️⭐️
My Review: 
OMFG, peeps!  I have no clue where to begin with this review! I have had a lot of time to reflect on my thoughts and look over my notes, so I am just going to do what I always do…and tell you how this book made me feel!
Set in London and mainly in and around the house, the reader is faced with guilt, revenge, denial, control, dysfunctional relationships, shame, a desire for approval -all centred around the main theme of abuse.
Ok- that was the easy part – this is where I just became a total mess of confusion: do I like this book? Is it too slow a build up? Was there enough suspense? Well, I enjoyed how it jumped between Jack and Sydney's POV – each chapter they seemed to answer each other, so you were not left wondering where each narrator's thoughts were going.  I found them both to be quite unreliable, and I liked that too! There was a cross-over feel to this book for me too.  By this I mean, although I knew it was a psychological thriller – there also was a wee hint of horror – I liked that too! For me though, it lacked a #killerhook at the start, but you know what- for some strange reason, I just could not put the damn book down! I had to keep reading!
I am not going to go into too much detail about the characters, as they are what made the story for me and I think as a reader, you have to get to know them to appreciate the whole concept of this book. However, I will talk a little bit about them.  Jack was a likeable enough character, but at times I just wanted to smack him – rather than deal with things right away, he was a bit of a whinger.  Saying that, Sydney was the opposite. Cunning, clever and forthright, she wouldn't sit and dwell on things.  But Elsie stole the show for me.  I was drawn to her, felt for her and just wanted to give her a great big hug! I thought it would have been a good idea to throw in the police's point of view in this and that may have gave it a little more oomph! (is that a word? …it is now! ?) There are a few other characters I would like to mention but unfortunately that would spoil the story, so lips sealed!
My detective skills were on fire and I had a good idea where the story was going but it was atmospheric, had an interesting premise, emotive and covered uncomfortable topics well! So do I recommend this book? You bet your sweet arse I do!  I have a feeling it will be one of those marmite reads, and that's ok! For me it was weirdly wonderful and captivated my interest, so I suggest you give it a try! And if you have read it, I would love to know what your thoughts are in the comments below!
Grab a copy of The House here: