I am catching up on my guest reviewer – Claire Knight's posts, and came across this!  Check out Claire's thoughts on Jane Harper's: THE DRY!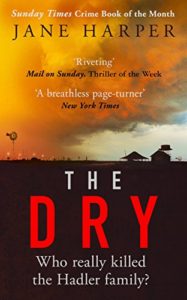 Synopsis:
WHO REALLY KILLED THE HADLER FAMILY?

I just can't understand how someone like him could do something like that.
Amid the worst drought to ravage Australia in a century, it hasn't rained in small country town Kiewarra for two years. Tensions in the community become unbearable when three members of the Hadler family are brutally murdered. Everyone thinks Luke Hadler, who committed suicide after slaughtering his wife and six-year-old son, is guilty.
Policeman Aaron Falk returns to the town of his youth for the funeral of his childhood best friend, and is unwillingly drawn into the investigation. As questions mount and suspicion spreads through the town, Falk is forced to confront the community that rejected him twenty years earlier. Because Falk and Luke Hadler shared a secret, one which Luke's death threatens to unearth. And as Falk probes deeper into the killings, secrets from his past and why he left home bubble to the surface as he questions the truth of his friend's crime.
Claire's Rating: 5/5
⭐️⭐️⭐️⭐️⭐️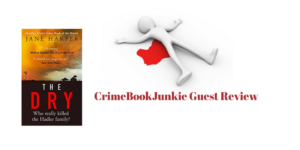 Claire's Review:
"Luke lied. You lied"
Jo Robertson of My Chestnut Reading Tree has been telling me I needed to read The Dry since she read it earlier this year. I know I should listen to her as she's come up with some cracking recommendations in the past….and once again she's right!
The Dry is set is rural Australia which is not a location I normally venture to in the literary world but Jane Harper has made the barren drought-ridden town of Kiewarra the perfect setting for her double whodunnit! Tensions are high in this run down town and it's not just because a local farmer was found dead along with his wife and son, leaving his baby daughter alone in her cot. Police investigating the deaths believe the deaths were the result of a domestic. Summoned for the funeral by Luke's father, Aaron (a childhood friend of Luke's) returns from the big city of Melbourne and is thrust into an emotional charged situation. Emotions dating back many years after the death of another friend, Ellie.  All fingers point at Aaron for this historic death, no matter how much he professes his innocence.
It's real page turner and that's not because I was reading a paperback copy.  The story totally captured my imagination.  Without realising it, I was there in the remote town with Aaron feeling duty to his old friend's parents.  I was desperate to know what happened to Luke and his family and to Ellie!  I sat in the final rays of the summer sunshine encapsulated with the investigation facing Aaron.
It's unbelievable that this is Jane Harper's debut novel.  The writing is atmospheric and descriptive but without the overkill.  I had enough to be transported down under without feeling forced there.  I really can't wait to see what the author has in store for Aaron next! Having read the synopsis for "Forces of Nature", my attention is grabbed immediately! Eeeekkkk!!!!
Many thanks to the lovely people at the Theakstons Old Peculier Crime Writing Festival 2016 for my proof of The Dry.
Sounds like you really enjoyed this, Claire! Thanks so much for sharing your review on my blog today! If Claire's review has piqued your interest, head over to amazon and grab a copy of THE DRY by Jane Harper.