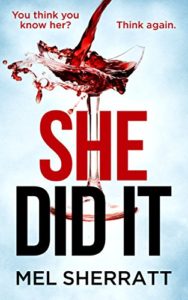 Synopsis:
Work colleague. Friend. Killer.
A successful businesswoman, Tamara enjoys her champagne lifestyle to the full. At least, that is the front she displays to the world. As well as being lonely, she's running out of money. A promising new member of staff brings the injection of fresh blood needed to win the contract that will turn things around.
Working for Tamara is a perfect ruse for Esther. But, along with fake references and qualifications, she also has a plan for revenge. Sensing Tamara's vulnerability, Esther uses their acquaintance as a way of getting close to someone who hurt her in the past.
Tamara is keeping things secret. Esther has a dark side she is trying to hide. For both of them, lying is a habit. But when mistakes begin to catch up with Esther, and people start dying, Tamara realises she's chosen the wrong person to trust as a friend.
Perfect for fans of The Girlfriend, Lies and Behind Closed Doors.
My Rating: 4/5
⭐️⭐️⭐️⭐️
My Review:
Mel Sherratt is one of my favourite authors, I have read every single one of her books and I am a huge fan of her Estate series – so when she asked me if I wanted an ARC of SHE DID IT – OMFG, I was bouncing off the walls with excitement!
The author leaves the comfort of Staffordshire/the Midlands and heads for the Big Smoke in this novel. Set in London, the reader is met with lies, deceit, revenge, secrets, manipulation, anger, fear, mistrust, and the child-like need for validation/approval. What's that you say? Sounds like a psychological thriller? Oh yeah – and what a mind f*ck it was! ?
I was pulled into this novel from page one, with a #killerhook that messed with my mind and had me asking – WTAF just happened!? I loved how Mel Sherrat incorporated the world of books, publicity and bloggers into the storyline! There were two strands of the story which initially seemed miles apart but eventually come together perfectly. The story is told mainly from two points of view: Tamara and Esther – both being unreliable narrators which left my head reeling! There was a great build up in terms of pace and the pages were riddled with suspense- It didn't take me long to finish this book because, well…I could not put the bloody thing down!
One of Mel Sherratt's strong points are her characters.  Whether you love them or hate them, this writer takes the time to develop and nuture each one so you really feel like you know them. Esther is manipulative, devious and determined to reach her goal, no matter the cost.  She has a way of masking these qualities and at times it is hard to distinguish whether she was being devious or genuine! Most awesome! We learn she is chaotic and damaged and someone you definitely would not want to cross. I still felt I wanted to know more about Esther – like there was something missing to tie up certain aspects of the story – we learn some, but maybe my background in the criminal justice system had me asking too many questions…
Tamara is the poor little rich girl, except she's not. She wants to make something of herself without hand-outs, to prove to her parents and others than she is skillful, smart and more than a pampered princess! Her downfall may well be her trusting nature, but she has her own secrets. Her lack of confidence and gullible side opens her up to be an easy target – but is she really? …you'll have to read the book to find out!
DC Carley Evans, James and Danny were a few of the other supporting characters that piqued my interest. Each one had a key bit to the story which was drip fed to the reader in a tantalising tease of a way.  Most awesome!
So, the question is: would I recommend this book? Erm…you bet your sweet arse, I would! A riveting, compelling read that will leave you questioning what you think you know, She Did It is the perfect psychological thriller to curl up with! Grab a copy here: