I am honoured to have been asked by the FABULOUS Craig Sisterson to take part in the first ever Ngaio Marsh Awards blog tour today!  For my stop, I have a Q&A with Jonothan Cullinane – debut author of Red Herring! Before I grill Mr Cullinane, let's find out a bit about his book!
About The Book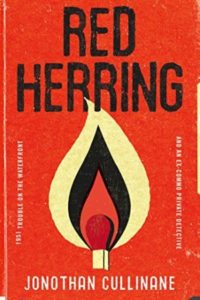 Johnny Molloy, a private detective with a threadbare practice in Auckland, is approached by an American insurance company to look for an Irishman who has pulled a Double Indemnity scam in San Francisco and disappeared – possibly to New Zealand.
Molloy – former member of the Communist Party, veteran of the Spanish Civil War and five years of fighting from Greece to North Africa to Italy  – takes the case, his first in weeks. There's not much demand for ex-Commo gumshoes.
It is 1951. A right wing government has just been elected. The Korean War is in full swing. The country is on the verge of a General Strike. The U.S. wants to buy New Zealand's entire wool clip for the next several years for the manufacture of uniforms and blankets for its forces in Korea. There are fortunes to be made – or not made, if the wharves are shut down and the wool can't be exported.
Behind every great fortune – as the saying goes – is a great crime, a crime much bigger than an insurance scam.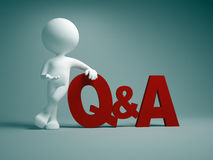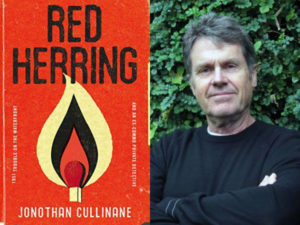 Thank you Jonothan for agreeing to take part in this Q&A today on my blog and a huge congratulations on making it as a finalist in the Ngaio Marsh Awards!
Thank you!
Can you share a little about yourself and your background?
I was born in New Zealand in 1951. Having established my proletarian bona fides on oil rigs in Canada and the North Sea (the Piper Alpha, as it happens, but ten years before the disaster), and as a bartender and proofreader in New York in the 1970s I began working in the New Zealand film industry in 1980. In 2007 I wrote and directed a feature film about a Christchurch businessman's titanic run-in with the IRD. The enormous success of that project lead to a period of unemployment followed by a job as a postman, a position I still hold.
Your debut novel, Red Herring is due to be published by HarperCollins, can you tell us a bit about the novel and when we can expect to see it on the shelves?
There was an extended waterfront dispute in New Zealand in 1951 which was as passionate and polarising as the UK miners' strike of the 1980s. People are still bitter about it. I was delivering the mail one day in Mt Roskill, a rapidly gentrifying but still working-class area of Auckland, shortly after "Red Herring" came out. An elderly gent came up to me and poked a finger and said, "Did you write that book about '51?" I said yes. He said, "It wasn't a strike you know – it was a lock-out!" and walked off, mumbling to himself.  The build-up to the dispute coincided with the ramping-up of the Korean War. The Americans wanted to buy New Zealand's entire wool clip for the manufacture of uniforms for their troops in that cold part of the world. Farmers had the opportunity to pay off their farms almost overnight – and then these (as the farmers saw it) Commies on the waterfront were threatening to shut down the wharves and prevent the export of wool. They had to be stopped. That's the "great fortune" part of "The Godfather" quote, "Behind every great fortune is a great crime". The "great crime" was how the authorities went about stopping it. So "Red Herring" is about a private detective, hired by an American insurance company to track down an Irishman who has defrauded the company and may possibly be in New Zealand. As with most crime novels, the plot widens. The Irishman has an IRA background, the union boss, Fintan Patrick Walsh (a real-life character, described in the "Penguin History of New Zealand" as the "nearest thing New Zealand had to an American-style industrial gangster") is violent and corrupt, the private detective is a former member of the Communist Party and a veteran of the Spanish Civil War, his nemesis – V.G. Parker, general secretary of the Communist Party – may be tied up with Walsh, Stalin to Walsh's Hitler, the fiery Caitlin O'Carolan, is as fatale as femmes come etc. etc.
I'm not sure when it's coming out in the U.K.
What was one of the most surprising things you learned in creating Private Eye Detective Molloy?
Hmmm. What an impact growing up Catholic had had on him, and by extension me – because I kept remembering all these Catholic turns of phrase – "Offer it up, as the nuns would say", "Miracles happen to those who believe" etc – that had unwittingly stuck with me fifty years after primary school and long since I'd entered the happily-lapsed phase.
Is there anything about your main character you now wish you could change? If yes, why?
Ha! I always want to ask authors that question – what would you change if you could? I can't answer it yet because I've just started working on a sequel. I'm sure I'll find myself wishing I'd seeded things about him in "Red Herring".
What do you like to do when you are not writing?
Talk to my wife, walk the dog, drink Heineken, plunk away on the dobro, read obsessively about Donald Trump, read obsessively.
You started writing later than most, at 65 years young, what advice would you give aspiring writers/authors?
Do it, because it is so much fun – and the feeling of holding your own published work – "I wrote this!" – is indescribable.
Give serious consideration to a creative writing course. I did one at the University of Auckland and found it invaluable. A friend, a playwright named Stuart Hoar, was a supervisor on the course and suggested I might like it. I was sceptical and said to him, "How can you teach someone to write in a year – and in an academic year at that which is of course only about three months?" He said, "Honestly, I don't know! But what I do know is that by the end of the year everyone in the class will have at least the equivalent of a 50,000 word first draft of whatever they're working on." And that was the case for me. I think creative writing courses offer two things. First, everyone – students and teachers – is pretty no-nonsense about it. You're here to achieve. Second, everyone else is turning in work so why can't you? I wouldn't have written "Red Herring" without it. I'd tried to a number of times but never got past page 2.
What drew you to crime fiction vs another genre in writing?
Crime fiction has defined rules about characterisation and structure and atmosphere, codified by Dashiell Hammett and Raymond Chandler. The better writers can afford to break them but for a first-timer they offer a template that makes the job easier. Plus, I like reading crime fiction and one of the things any How-To-Write guide will tell you is write the novel you want to read.
Do you work to a particular outline/structure/plot or do you prefer to just see where your ideas/the story takes you?
I wish I could say I follow my Elmore Leonard-like nose but unfortunately I need an outline. I love aimless digression but I have to have something to digress from.
When choosing a book to read what draws you in?
The subject, the author, the reviews, the opening lines. I get ridiculous pleasure from dismissing a book because the first few pages don't live up to my lofty standards. I remember reading "The Da Vinci Code" and flinging it aside after the first chapter – and then picking it up again and reading the final chapter just so I'd find out what the Code was – and then, because the last chapter didn't say, reading the second-to-last etc etc until I'd read the whole stupid thing backwards.
How can readers discover more about you and your books? (social media links, website, etc)
Ha! I started a Facebook page with Red Herring in the title but it's gathering dust.  And I started a blog years ago called "How To Direct A Film" (www.howtodirectafilm.blogspot.com – I just looked it up! It's still there!) based on my hapless attempt to do so. It was fun and therapeutic for awhile but then the air went out of it and it's now on a shelf in the top cupboard next to my Facebook page.
What books have most influenced your life?
Probably Clancy Sigal's "Going Away". I stole a copy from the Edmonton Public Library in 1974 and still have it. I would like to think there's a bit of "Going Away" in "Red Herring". Readers may struggle to make the connection but it was there for me – I love that book.
Alan Furst's novels are a source of endless pleasure. I've read the opening chapter of "Dark Star" in particular countless times – that is exactly how I wish I could write.
The first grown-up books I read were by Evan Hunter (who also writes as Ed McBain). Hunter/McBain is a master of dialogue and I'd recommend him to anyone interested in that particular aspect of writing.
And Evan S. Connell's "Son Of The Morning Star", an anecdotal history of Custer and Little Big Horn, is just beautifully written and a joy to read. I've bought and given away a dozen copies at least.
What book are you reading right now?
"I Was Stalin's Agent" by Walter Krivitsky, "Grant" by Jean Edward Smith, "Hue, 1968" by Mark Bowden, "Growing Up in Ponsonby and Grey Lynn Between the Wars" by Russell Stone, "The Politics of Heroin in South-East Asia", by Alfred McCoy, "To Live and Die In L.A." by Gerard Petievich. The Auckland Public Library system is world-class and I keep getting things out.
Are there any new authors that have grabbed your interest?
I heard a lot about Don Winslow recently so I bought "The Force". Stephen King compared it to "The Godfather". Yes, but to the parts that got cut for the film. Overworked. Then I saw that he'd written "The Life And Death of Bobby Z" which I realised I'd tried reading a few years ago and was unable to finish.
On a more positive note there's a young New Zealander named Ben Marshall who writes terrific thrillers in the Lee Child vein.
What current projects are you working on?
Two things. A sequel to "Red Herring" called "Yellow Peril". Same characters and setting but starting a few weeks later. It is based on something that a great bloke named Cliff Robinson, who had been a ships engineer and member of the Communist Party in the 1950s, told me. According to Cliff, the Peoples Republic of China, seeking hard currency, used to smuggle opium to San Francisco in the early-1950s. Rather than go across the North Pacific it came via Sydney and Auckland and snuck in the back way. F.P. Walsh, the villain of "Red Herring", was rumoured to have facilitated its passage through Auckland. Walsh had spent a lot of time in San Francisco during WW1 and had extensive connections there.
And a film project called "I See Red", based on a true story about a volunteer firefighter in a small town in the South Waikato, a failure at everything in life except running the Volunteer Fire Brigade, at which he was a genius. So successful was his brigade that the regional commander decided it wasn't necessary and made moves to wind it up. What is a firefighter to do? It's obvious. If they wanted fires he'd give them fires. It is "Fargo"-esque, a crime story without villains, a very sweet love story, and a look at how Thatcherist policies ravaged rural New Zealand in the 1990s.
Is there anything you find particularly challenging in your writing?
That a reader might find challenging? Maybe finding the arcane things I find interesting, interesting.
As a writer? Actually doing it. When I'm on a roll I love it. When I'm not on a roll…
What do you think makes your book stand out from others?
Seriously – the cover. Darren Holt, a graphic designer at HarperCollins in Australia, won an Australian Design Award for it earlier this year. Every reviewer agrees that the cover is terrific!
I also think that the 1950s were a very interesting period in New Zealand's history, especially its political history. The country was full of confidence then, before the gradual sell-out to American values took hold.
What criticisms have helped you as a writer?
The film I made a few years ago  got a savage and dismissive review in the New Zealand Herald. I stared at the wall for a few months and then decided, "Okay, maybe I'll try writing a novel." There is a minor character in "Red Herring", a feckless constable always looking for the short-cut, who shares a name and unfortunate physical characteristics with that swinish reviewer. I have plans for this character, none of them good.
So, obviously, the criticism has helped me grow as a person…
If you could describe yourself in three words, what would they be?
Ask. My. Wife.
If you could describe your book in three words—what would they be?
His. First. Novel.
Seriously, I find the expression, "This is his (or her) first novel" to be one of the most chilling in the English language.
I absolutely LOVE that interview! Thank you so much Jonothan for taking part and good luck in your categories! Follow the rest of this cracking tour and catch up with what you may have missed!