Today on my blog, my fabulous guest reviewer Claire Knight is hosting the gorgeous Louise Beech's MARIA IN THE MOON blog tour!  Before I share her awesome review, Let's find out more about the author and this book!
About the Author
Louise Beech remembers sitting in her father's cross-legged lap while he tried to show her his guitar's chords. He's a musician. Her small fingers stumbled and gave up. She was three. His music sheets fascinated her – such strange language that translated into music. Her mother teaches languages, French and English, so her fluency with words fired Louise's interest. She knew from being small that she wanted to write, to create, to make magic.
She loves all forms of writing. Her short stories have won the Glass Woman Prize, the Eric Hoffer Award for Prose, and the Aesthetica Creative Works competition, as well as shortlisting twice for the Bridport Prize and being published in a variety of UK magazines. Her first play, Afloat, was performed at Hull Truck Theatre in 2012. She also wrote a ten-year newspaper column for the Hull Daily Mail about being a parent, garnering love/hate criticism. Her debut novel was a Guardian Readers' pick for 2015.
She is inspired by life, history, survival and love, and always has a story in her head. Her debut novel, How to be Brave, came from truth – when Louise's daughter got Type 1 Diabetes she helped her cope by sharing her grandad's real life sea survival story. Her second novel, The Mountain in my Shoe, will be released in September 2016 and was inspired by her time working with children in the care system.
When she was fifteen Louise bet her mother ten pounds she'd be published by the time she was thirty. She missed this self-set deadline by two months. Her mother is still waiting for the money.
Link to Louise's website – http://louisebeech.co.uk/
About The Book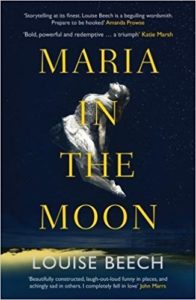 Long ago my beloved Nanny Eve chose my name. Then one day she stopped calling me it. I try now to remember why, but I just can't.' Thirty-two-year-old Catherine Hope has a great memory. But she can't remember everything. She can't remember her ninth year. She can't remember when her insomnia started. And she can't remember why everyone stopped calling her Catherine-Maria. With a promiscuous past, and licking her wounds after a painful breakup, Catherine wonders why she resists anything approaching real love. But when she loses her home to the devastating deluge of 2007 and volunteers at Flood Crisis, a devastating memory emerges … and changes everything. Dark, poignant and deeply moving, Maria in the Moon is an examination of the nature of memory and truth, and the defences we build to protect ourselves, when we can no longer hide…
Claire's Rating: 5/5
⭐️⭐️⭐️⭐️⭐️
Claire's Review:
'When you give like that, you deserve whatever makes your heart whole'
The floods of 2007 are ingrained in my mind. I remember watching Look North with Harry Gration showing the images of Sheffield and the surrounding area devastated by Mother Nature and calls from work colleagues stranded at home unable to get to Leeds. I didn't catch much of the national coverage so I was never fully aware of the full extent of what had happened.
Maria In The Moon centres around the floods that hit Hull, the author's hometown…well city. But it's not about the floods in the main. It's about Catherine, a woman who can't stop listening to other people's problems. She's drawn to care-lines when she has her own relationships that need sorting out.
The writing totally surrounded me. I felt I was there in Hull, I was Catherine whilst my own life in Leeds continued around me as I read. I felt what she felt.
I thought the writing in How To Be Brave was beautiful but Ms Beech has honed her talent in this one. Where else would you read a description of 'The draught from the open door kissed my bare ankles'? I felt my ankles shiver as I read that sentence.
"Maria In The Moon" is an emotional charged read and I defy anyone not to feel a tug of the heartstrings as Catherine's story reaches its climax. I cried as the book came to a close. But don't be mistaken, amongst all the emotion and angst of Catherine's life and those she listens to on the phone, there's suspense but that's all I'm going to say #nospoiler. The book has been labelled as 'Dark Drama' and it is definitely dark and dramatic.
'It's not love unless it hurts'
Louise Beech is rapidly becoming one of the few authors who will draw me out of the dark world of crime fiction into her own unique genre of story telling. I adore her writing style! I now have to shoehorn in "The Mountain In My Shoe" into my reading schedule!!
A big thanks to Orenda Books for my copy of Maria In The Moon and to Anne Cater for inviting me onto the blog tour. And a humongous squishy thank you to the wonderful Noelle for letting me host the #Crimebookjunkie stop of the blog tour.
Wow! Stunning review from Claire for what sounds like a fantastic read! I may even be drawn out of the world of crime fiction for this one! If intrigued, grab a copy from the link below! Thanks, Claire, Karen, Anne & Louise!