Afternoon, #bookjunkies.  Today on my blog, my guest reviewer Claire Knight is sharing her thoughts on M.A. Comley's short story: Irrational Justice! Let's find out what she has to say!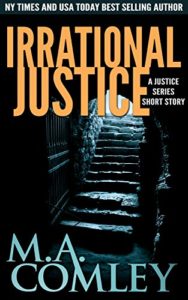 Synopsis:
A fast-paced short story thriller in the bestselling Justice series.
In a race against time, with the life of a young woman at risk, DI Lorne Simpkins and her partner, DS Pete Childs find themselves in an impossible situation which puts them in mortal danger.
Can the dynamic duo rescue her before she draws her final breath, or will they fall victim to a diabolical killer?
Claire's Rating: 5/5
⭐️⭐️⭐️⭐️⭐️
Claire's Review:
Boom!!! Another fast paced race against time investigation for Lorne and Pete.
A 15 year old disappears after a night out clubbing and there is an evil criminal mastermind with a perchance for slaughtering such girls.  Can the dynamic duo get to the girl before he has his wicked way with her?
At 51 pages, this short story is out the blocks at speed and goes faster than Usain Bolt to the finish line.  It's a read you can devour with a brew and biscuit!
Many thanks to the author for my copy of Irrational Justice!
Thanks, Claire!  I have reviews of my own to catch up on – including this one, but I can tell you that I totally agree! This is definitely a gripping story and well worth reading! Just love a #JusticeFix!  If this sound like something you'd enjoy- head over to amazon and grab a copy today!