Eeeeeeeeek! I am absolutely over the moon to be hosting the absolutely phenomenal Michael J Malone's HOUSE OF SPINES blog tour! My thanks to Anne Cater & Karen Sullivan of Orenda Books for the ARC and the opportunity! I know all about this author, but how about I share some info with you before I tell you all about this amazing book!
About The Author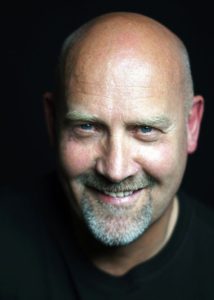 Michael Malone was born and brought up in the heart of Burns' country, just a stone's throw from the great man's cottage in Ayr. Well, a stone thrown by a catapult, maybe.
He has published over 200 poems in literary magazines throughout the UK, including New Writing Scotland, Poetry Scotland and Markings. His career as a poet has also included a (very) brief stint as the Poet-In-Residence for an adult gift shop. Don't ask.
BLOOD TEARS, his debut novel won the Pitlochry Prize (judge:Alex Gray) from the Scottish Association of Writers and when it was published he added a "J" to his name to differentiate it from the work of his talented U.S. namesake.
He is a regular reviewer for the hugely popular crime fiction website www.crimesquad.com and his blog, May Contain Nuts can be found at http://mickmal1.blogspot.com/
He can be found on twitter – @michaelJmalone1
About The Book: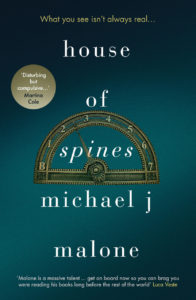 Ran McGhie's world has been turned upside down. A young, lonely and frustrated writer, and suffering from mental-health problems, he discovers that his long-dead mother was related to one of Glasgow's oldest merchant families. Not only that, but Ran has inherited Newton Hall, a vast mansion that belonged to his great-uncle, who appears to have been watching from afar as his estranged great-nephew has grown up. Entering his new-found home, he finds that Great-Uncle Fitzpatrick has turned it into a temple to the written word – the perfect place for poet Ran. But everything is not as it seems. As he explores the Hall's endless corridors, Ran's grasp on reality appears to be loosening. And then he comes across an ancient lift; and in that lift a mirror. And in the mirror … the reflection of a woman … A terrifying psychological thriller with more than a hint of the Gothic, House of Spines is a love letter to the power of books, and an exploration of how lust and betrayal can be deadly…
My Rating: 5/5
⭐️⭐️⭐️⭐️⭐️
My Review:
Oh my giddy aunt! Where do I start!? There are just no words for the absolute gorgeous brilliance of this story! Set in Bearsdon, Scotland we are taken on a gothic and psychologically thrilling tale of a haunting past, mental illness, relationships, dysfunction, loss, abandonment, hope, passion, betrayal, deceit, love and the magic of books.
Needless to say, I was hooked from the get-go. Michael J Malone plunges the reader into a world where reality seemed blurred.  The words, the writing, this story…were like music on a page for me – there were highs, lows, a quick pace which evened out before the build up began again – total food for the soul! What an emotive and atmospheric read as well! It was haunting, mesmerising, sad, euphoric – I was totally captivated and Michael J Malone's writing was like a siren pulling me in….
I loved the cast of characters in this book. They really brought this story to life! The main character, Ran McGhie, is bi-polar. An insecure young man who, in his manic periods oozes confidence – albeit false. Inheriting Newton Hall from an uncle he never knew existed, makes him face things from his past and learn truths about his family which threaten his mental well being as well as his future. Books are his escape, and Newton Hall is literally a House of Spines. Superb!
The sheer madness of his uncle, cousins and the staff of Newton Hall was fascinating. No wonder poor Ran had no clue if what was happening was real or part of his deteriorating mental health. Ran struggled to accept his illness and therefore fought with it every step of the way.  Those who tried to help him, his ex-wife Martie and an old neighbour-Donna, were often viewed as the enemy, as Ran believed they were trying to destroy his newfound happiness.  I really can't say much about any of it as it would ruin this cleverly written story for those of you who have yet to experience and read this book!
Would I recommend this book? With every fibre of my being I would!! It is entralling, wonderful, intense, full of suspense and twists that had my head in a spin! There were devious undertones, a mysticism that had me suspending belief – a hopelessness, a passion and a journey of discovery which had me in fear of what might be uncovered – oh yeah, this is definitely a book I would suggest everyone delve into and devour!! Another #TopRead from Michael J Malone which will stay with me for some time!
You can grab a copy of this phenomenal read here: