Today on my blog, Guest Reviewer Claire Knight is hosting Richard Parker's HIDE AND SEEK blog tour!  Before I share her AWESOME review, let's find out a bit more about the author and this book!!
ABOUT THE AUTHOR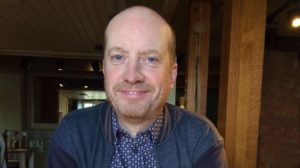 Richard Parker was formerly a TV script writer, script editor and producer before turning his hand to penning twisted stand alone thrillers.
HIDE AND SEEK is his fifth book and is published August 2017.
FOLLOW YOU was his fourth psychological thriller. Reviewers are saying it's Bookouture's darkest crime novel to date.
STALK ME was his third and rode high in the UK and US charts.
SCARE ME was his second. Hollywood movie rights have been acquired by major US studio, Relativity Media. Star of PRISON BREAK and screenwriter of dark horror thriller STOKER, Wentworth Miller, has written the big screen adaptation.
STOP ME, Richard's darkly fiendish debut, was shortlisted for the John Creasey (New Blood) Dagger Award.
ABOUT THE BOOK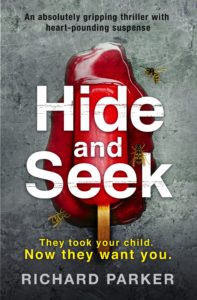 The sun is out. Your little boy is smiling. The next time you look… he's gone.
When Lana and Todd win a trip to Blue Crest Adventure Park, their four-year-old Cooper is ecstatic, but when Lana goes to meet them, Todd is out cold, and Cooper is missing.
No one stopped the man carrying the sleeping boy. The cameras don't show where he went. Then Lana receives an anonymous message, telling her to visit a local school with a horrifying history…
This is no random attack. Whoever took Cooper is playing a twisted game, and if Lana wants to find him, she must participate.
What is the link between the school and her missing son? Can Lana uncover the kidnapper's identity and save Cooper before it's too late?
A dark, heart-in-mouth thriller that will keep you reading long into the night. Fans of James Patterson, Karin Slaughter, and Tess Gerritsen will be absolutely hooked.
Claire's Rating: 4.5 ⭐️'s 
Claire's Review:
You're there in the kitchen watching your offspring playing out in the sanctuary that is your back garden when appears a figure. A masked figure who proceeds to try and take your child. What do you do?! I don't know about you but I'd like to think I'd do what Lana did – go and fight. Defend the safety of my property and rescue my son from the clutches of evil. What follows for Lana is a tale of obsession and worry and neither are healthy things to be gripped by.
The whole back garden incident really affects Lana which I personally think it would any parent. She's OCD about the security of the place they live having moved out of their family home. And she's become obsessed about finding the masked intruder to the extent of doing her own personal investigation. This obsession is fuelled by a phone app, one that shows you death sites. Now in normal circumstances, it would be rather interesting to have short term (yes I have a slight morbid interest) but Lana is addicted to this app as much as I'm addicted to Facebook…
Richard Parker has gone and taken a mother's worst nightmare and made it a fast paced tense engrossing story. As I finished the closing chapters, I realised I was sat with my jaw dropped and my heart was beating a lot harder than normal!!
This is my first encounter with Mr Parker's writing and it's not going to be my last. I've got "Follow You" sat patiently waiting on my kindle however I think after reading "Hide And Seek", it might start murmuring and then shouting at me!!!
Many thanks to Bookouture and Netgalley for my copy of "Hide and Seek" and to Bookouture for inviting me on the blog tour. As ever a big thank you to Noelle for letting me host the #Crimebookjunkie stop of the blog tour!
Woohoo!  Thanks for that cracking review, Claire!  Grab a copy of Hide and Seek from the link below: