Happy Publication Day!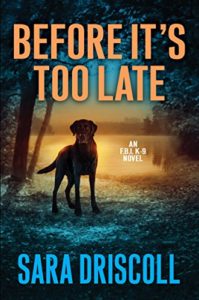 Synopsis:
In this powerful K-9 crime thriller, FBI Special Agent Meg Jennings and her trusted search-and-rescue Labrador, Hawk, must race against the clock before a diabolical killer strikes again…
 
Somewhere in the Washington, D.C., area, a woman lies helpless in a box. Beneath the earth. Barely breathing. Buried alive. In Quantico, the FBI receives a coded message from the woman's abductor. He wants to play a game with them: decipher the clues, find the grave, save the girl. The FBI's top cryptanalysts crack the code and Special Agent Meg Jennings and her K-9 partner, Hawk, scramble to the scene of the crime. Cryptic clues lead them astray and by the time they solve the puzzle, it's too late. But the killer's game is far from over . . .
Soon another message arrives. Another victim is taken, and the deadly pattern is repeated—again and again. Each kidnapping triggers another desperate race against time, each with the possibility of another senseless death. That's when Meg decides to try something drastic. Break the Bureau's protocol. Bring in her brilliant sister, Cara, a genius at word games, to decipher the kidnapper's twisted clues. Meg knows she's risking her career to do it, but she's determined not to let one more person die under her and Hawk's watch. If the plan fails, it could bite them in the end. And if it leads to the killer, it could bury them forever . . .
My Rating: 5/5
⭐️⭐️⭐️⭐️⭐️
My Review:
Eeeek! You have to love a book that features a gorgeous Labrador as one of it's main characters! My thanks to Jen J Danna and Netgalley for providing me with a widget to download and read the second book in this awesome series!! Lone Wolf is the first book in this series and you can read my review HERE
The book starts in Arlington, Virginia and we are faced with fear, threats, the past, revenge, trust and the search for justice.
I was immediately pulled into the pages of this book from the get go – an emotive prologue and a #killerhook had me wanting more! more! more! My nerves were on end with this cat & mouse chase where  the protagonist is at a loss of who she can trust. I loved the story-line and for me it felt like it had a personal touch and I wondered how much the author(s) injected a bit of themselves into this story.
YAY for Meg and Hawk! They are back with a bang and I have to say, I ADORE this pair! Despite Hawk being a gorgeous Labrador, the mutual respect, companionship and trust between this pair just oozes off the pages! And I loved when Meg used the command "Talon" to let Hawk know she meant business. Meg is a great character, determined, not afraid to break the rules but protective of those she loves.  We see a more vulnerable side to her in this book – I won't say why, but you'll find out almost immediately.  Her human-side outweighs her professional as she is determined to catch a killer. BRILLIANT!
We also see a little more of Cara, Meg's sister, in this book and as much as they are alike – there are also alot of differences between these sisters.  Cara is extremely clever when it comes to analysis and puzzle and it is this skill that has her pulled into this clverly plotted investigation. McCord, the journalist is back again and also helps the sister's unravel the clues.  Love him and I was pleased to see the direction his personal life was taking…won't say anymore on that either! ?
Todd Webb, a firefighter and Meg's boyfriend also played a stronger role in this book.  We had only been introduced to him at the end of Lone Wolf and I liked what I read back then.  This time we see his protective nature on high alert but also his respect for Meg and her profession!
I loved the team Meg works with and so many of the other characters – I wish I could talk about them all.  I do want to mention the killer, though.  This is personal and the author feeds us bits of the clues alongside those Meg, her team and others are getting. Her past is coming back to haunt her and this killer is making it very clear that they mean business! Cunning and clever, we wait on tenterhooks to see what their next move will be!
Wow! Wow! Wow! Do I recommend this book? Hell-to-the-yeah, I do! I am absolutely LOVING this series; clever plots; interesting characters; twisted killers and suspense throughout – and Hawk! Well you #GottaLoveHawk ❤️
Grab a copy of this book on amazon or just follow the link below!