Woohoo!  Thrilled to be taking part as the FINAL stop for Sarah Ward's A PATIENT FURY blog tour today! My thanks to the author and Faber & Faber publishing for an ARC of this awesome book!  So let's get started!
About The Author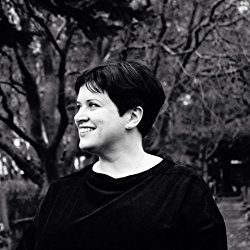 Sarah Ward is the author of two DC Childs novels, In Bitter Chill and A Deadly Thaw set in the Derbyshire Peak District where she lives. Her third book in the series, A Patient Fury, is out in September. On her blog, Crimepieces (www.crimepieces.com), she reviews the best of current crime fiction published around the world, and she has also reviewed for Euro Crime and CrimeSquad. She is a judge for the Petrona Award for Scandinavian translated crime novels.
Follow Sarah on Twitter @sarahrward1
About The Book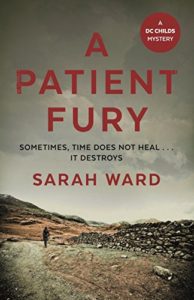 When Detective Constable Connie Childs is dragged from her bed to the fire-wrecked property on Cross Farm Lane she knows as she steps from the car that this house contains death.
Three bodies discovered – a family obliterated – their deaths all seem to point to one conclusion: One mother, one murderer.
But D.C. Childs, determined as ever to discover the truth behind the tragedy, realises it is the fourth body – the one they cannot find – that holds the key to the mystery at Cross Farm Lane.
What Connie Childs fails to spot is that her determination to unmask the real murderer might cost her more than her health – this time she could lose the thing she cares about most: her career.
My Rating: 5/5
⭐️⭐️⭐️⭐️⭐️
My Review:
After reading A Deadly Thaw  I just KNEW I had to get my hands on this book – check out my review here.
Set in Derbyshire, the reader is drawn into a mystery of domestic abuse, family secrets, relationships, abandonment, loss, betrayal, hurt and isolation.
Plotwise we are given #AllTheBooms – and early on I found my jaw on the floor … OMFG I love when that happens! This was a fast-paced, compelling read and I literally could not put this book down! Nothing gives me greater pleasure than when a book leaves me looking around my room thinking WTAF – did THAT just happen! Oh yeah, it bloody did! Brilliant! You can see the story arc continue to develop in this, the third book, of the series as we also learn even more about the main characters who make up this superb team!
This book was abundant with characters that drew me in hook, line and sinker.  DC Connie Childs returns to work following a period of sickness absence and soon feels isolated amongst her colleagues. To be fair, she brings some of this upon herself as she doesn't take to following orders very well! Connie is stubborn and has a fiery temper which didn't help her much, but she came across as real and believable. A fantastic all- around character!
Now DI Sadler is a firm but fair leader and in his own way, he looks out for DC Childs, even though she doesn't see this.  DS Sadler – blah- what is sneaky, so and so. I found him to be selfish, arrogant and competitive to a fault.  But what a great character to garner so much emotion from me! ? I could go on about the various different characters but that wouldn't be much fun for anyone else who wants to read this book.
In terms of the adversary…well jaysus…I did not see it coming – well I did, but then I didn't as the red herrings just kept me changing my mind every five minutes – my review notes will attest to that! ?
Do I recommend this book?  Hell yeah with bells on, I do!  This is one intense, secretive, compelling read that really got me excited!  When books do that, you KNOW you are onto a winner!  So what are you waiting for, #bookjunkies? Grab yourselves a copy and welcome DC Childs into your crime fiction reading lives!