Today my fantabulous #GuestReviewer – Claire Knight, is hosting J.F. Kirwan's 37 Hours Blog Tour.  Let's not dilly-dally – I've a review to share, so let's get to it!
About The Author
In his day job, J. F. Kirwan travels worldwide, working on aviation safety. He lives in Paris, where he first joined a fiction class – and became hooked! So when a back injury stopped him scuba diving for two years, he wrote a thriller about a young Russian woman, Nadia, where a lot of the action occurred in dangerously deep waters. It was the only way he could carry on diving! But as the story and characters grew, he realised it was not one book, but three…
Author links:
About The Book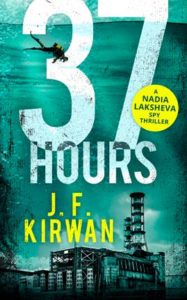 The only way to hunt down a killer is to become one.
Imprisoned by MI6 for two long years in solitary, Nadia suddenly finds herself free again. But there is a price to pay for her release. Another dangerous and near impossible mission – retrieve the Russian nuclear warhead stolen by her old nemesis, the deadliest of terrorists.
But he is always one step ahead, and soon Nadia finds herself at the front line of preventing London from disappearing into a cloud of ash. Only this time, she is ready to pull the trigger at any cost.
And with the clock counting down from 37 hours, time is running out…
Claire's Rating: 3.5-4 
Claire's Review:
37 Hours picks up two years after 66 Metres but despite the time gap, you do have to read 66 Metres to fully appreciate its follow-up.
Nadia has served her time at Her Majesty's pleasure and is heading home to Russia. As she touches down on home soil, she is apprehended by the Russian navy who are in a pickle…and Nadia is the one they need! Thrown in amongst this tale of saving Nadia's country, are some revelations and history between other characters in the story.
This episode was slightly lacking for me.  But it is a personal thing; I loved Jake in the first instalment of this trilogy. For me, 37 Hours didn't feature enough of this rugged Brit with his on-off lover Nadia. Their relationship sparks off the page! I love it!
But don't get me wrong, this fast paced international spy thriller totally grabbed my attention and had me hooked. I read it over 3 evenings so 6-7 hours of diving into the cold ocean, chasing around the world to end up in what can only be described as a deadly environment but that is all I can describe it as #nospoiler!! And there were parts where my hand was at my mouth in shock!!
I will be getting the final third of this trilogy as I want to know whether Nadia is ever freed from her past!!
Many thanks to Thick as Thieves Publicity for my e-copy of 37 Hours.
If Claire's review has piqued your interest, grab a copy of 37 hours here: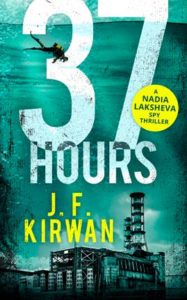 And why not grab a copy of 66 Metres as it is currently FREE!