Can I get a Hell Yeah?
It's my stop on Mike Thomas' Unforgiveable blog tour! Woohoo!  My thanks to Emily Burns of Bonnier Zaffre and Netgalley for an ARC of this book.  So enough of the chit chat- let's find out more about the author and this book!
About The Author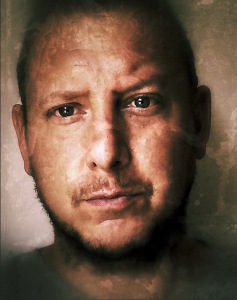 Mike Thomas was born in 1971 in the Welsh town of Caerphilly, famed for being the birthplace of comedian Tommy Cooper, its 'deliciously' salty cheese, and its castle with a tower which allegedly leans at a sharper angle than the more celebrated one in Pisa.
His teenage years were spent breakdancing, spraying graffiti around the town's walls and office blocks and just about staying on the right side of the law, until his early twenties when, inexplicably, he joined the local constabulary and began locking people up for spraying graffiti around the town's walls and office blocks.
While working as a plod in Wales' capital city of Cardiff, Thomas continued with his childhood passion: writing. As a freelance he produced articles for local newspapers, various websites and national travel magazines, while in 2007 he was one of the winners in the annual Rhys Davies Short Story Competition organised by Literature Wales. After completing a Master's degree in Creative Writing at the University of Wales between 2007 and 2009, Thomas published his debut novel, Pocket Notebook, in 2010 with William Heinemann/Penguin Random House.
The author was on the prestigious list of Waterstones' 'New Voices' for that year, while Pocket Notebook was longlisted for the Wales Book of the Year and optioned for television by Carnival Films, the producers of Downton Abbey. His second novel, Ugly Bus, was released by Heinemann in 2014 and is currently in development as a six part television series with the BBC. Both novels deal with the uglier side of policing.
Thomas left the police in the spring of 2015 and grew his hair and a pathetic attempt at a beard. He currently lives in the wilds of Portugal with his wife and children. Alongside chopping wood, cementing crumbling house walls and trying to find somewhere that sells his beloved Marmite, he continues to write articles and web pieces for a variety of sites and publications, and is contracted to London's Bonnier Publishing for three new novels, the first of which – Ash and Bones – was released August 2016. The second in the series, Unforgivable, is due for publication in the summer of 2017.
About The Book: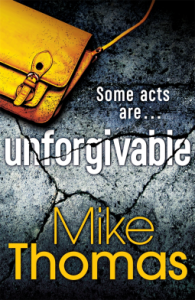 Bombs detonate in a busy souk, causing massive devastation.
An explosion rips apart a mosque, killing and injuring those inside.
But this isn't the Middle East – this is Cardiff . . .
In a city where tensions are already running high, DC Will MacReady and his colleagues begin the desperate hunt for the attacker. If they knew the 'why', then surely they can find the 'who'? But that isn't so easy, and time is fast running out . . .
MacReady is still trying to prove himself after the horrific events of the previous year, which left his sergeant injured and his job in jeopardy, so he feels sidelined when he's asked to investigate a vicious knife attack on a young woman.
But all is not as it seems with his new case, and soon MacReady must put everything on the line in order to do what is right.
My Rating: 4/5
⭐️⭐️⭐️⭐️
My Review:
Set in Cardiff, the reader is thrown into a story filled with destruction on both personal and professional levels. There is loss, guilt, revenge, anger, retribution, family/relationships, lies/secrets, betrayal – all is not as it seems but most is unforgiveable….
Plot-wise, the story for me at first, moved along at quite an even pace but rose & fell exactly where it should – getting the #BOOMS in exactly where needed to keep the reader on edge throughout.  Told in third-person POV, there initially appears to be two threads to this complex story-line, but don't get complacent as all roads merge into one and you are carefully directed to see how all the pieces fit together.  The pace also picked up full throttle in the second half of this novel which made for an exciting and intense read!
Character-wise, this book had a mixed bag of people to keep the reader interested, so I will only mention a few that really caught my eye. DC Will MacReady has a whole lot going on in both his personal and professional life which I found added that touch of realism and authenticity not only the story, but this character as well.  Despite his demons and the state of the police force, MacReady is determined, reactive and trying to get to grips with the hardships that haunt him – ok, he may not deal with this part too well….but I think the author nailed it.
Echols- well the conflict between Echols and MacReady was so thick, I even felt awkward when these pair came together! This guy comes across as a grade-A arse if I am honest, but he may well have cause to be….
I have to say, Klaudia Slovak was my favourite character overall – she is a journalist, fiesty, a wee bit sassy but oh so intelligent.  Ok…ok….so her involvement with MacReady may be questionable, but there is great banter and a genuine fondness that really made me soften towards her.  I love her wit, sarcasm and ability to get exactly what she wants.  Great character, Mr Thomas!!
This is the second book in the series, Ash and Bones being the first and although it can easily be read as I standalone, for me, I did feel like I was missing out on some of the backstory to really grasp the dynamics fully.  Don't get me wrong, the author does provide the reader with enough to enjoy the story, I just personally wanted more, so will definitely be picking up Ash and Bones to really immerse myself in this series!
Do I recommend this read?  That would easily be a you bet your sweet arse I do! If you are looking for a dark, gritty, action-packed, explosive read/series – you will definitely want to get your hands on this badboy!
Grab a copy of Unforgiveable below: