I have a fantastic guest review post from Claire Knight for Ausma Zehanat Khan's The Unquiet Dead today on my blog.  Let's find out a bit more about the author and her book before I share Claire's review!
About The Author
Ausma Zehanat Khan holds a Ph.D. in International Human Rights Law with a specialisation in military intervention and war crimes in the Balkans. She is a former adjunct law professor and was Editor-in-Chief of Muslim Girl magazine, the first magazine targeted to young Muslim women. A British-born Canadian, Khan now lives in Denver, Colorado with her husband. The Unquiet Dead is her first novel.
About The Book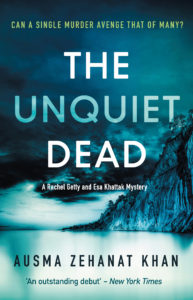 One man is dead.
But thousands were his victims.
Can a single murder avenge that of many?
Scarborough Bluffs, Toronto: the body of Christopher Drayton is found at the foot of the cliffs. Muslim Detective Esa Khattak, head of the Community Policing Unit, and his partner Rachel Getty are called in to investigate. As the secrets of Drayton's role in the 1995 Srebrenica genocide of Bosnian Muslims surface, the harrowing significance of his death makes it difficult to remain objective. In a community haunted by the atrocities of war, anyone could be a suspect. And when the victim is a man with so many deaths to his name, could it be that justice has at long last been served?
In this important debut novel, Ausma Zehanat Khan has written a compelling and provocative mystery exploring the complexities of identity, loss, and redemption.
Winner of the Barry Award, Arthur Ellis Award, and Romantic Times Reviewers Choice Award for Best First Novel
Claire's Rating: 4.5/5
Claire's Review:
In 1995, I was aware of what was going on in the world around me but to differing levels of interest. But as a teenager, I was more interested in the pop culture of Kurt Cobain's suicide, Eric Cantona's kung fu kick….and my GCSEs. I knew that's there was a war raging in the former Yugoslavia but I didn't know the details, the whys and the wherefores, just that it dominated the 6 o'clock news and the front pages of the papers. But reading The Unquiet Dead has opened my eyes and given me a peak into the atrocities that I was so blinkered to at the time.
This is the second book I've read this year that has given me such food for thought, the first being the harrowing Block 46 by Johana Gustawsson. The Unquiet Dead is shocking in a different way. The recollections of the Bosnian war is not something that should be happening in the latter stages of the 20th Century but it did. History was never my subject of choice at school but reading this has piqued my interest in reading more into modern history.
This book isn't just about the horrific events of the Bosnian war, it's about secrets and a possible murder! Was our victim who was instrumental in some awful acts in Eastern Europe pushed off a cliff in Scarborough, Canada or did he jump? Detectives Khattak and Getty have their work cut out as they scratch the surface surrounding this strange death. I thought the partnership between the detectives was a work in progress as any new pairing would be. Finding each other's strengths and ways of working can take time in any profession.
The chapters were packed with intrigue and I was reluctant to stop part way through one despite my sleep heavy eye lids having other ideas! I wanted to savour the story but my curiosity was winning to find out what happened to the victim. It's not a particularly fast paced tale but I don't think that style would work. The slower pace fits the story and the flashbacks to experiences in Bosnia.
Ausma Zehanat Khan is an author I hadn't heard of before but I'm glad I've discovered her at the dawn of her writing career. I'm excited to have been introduced to Khattak and Getty at the start of their series together. I will be waiting with anticipation for the next investigation they face!
Massive thanks to Maddy Allen at No Exit Press for my ecopy of The Unquiet Dead and to Anne Cater for inviting me on the blog tour. A even bigger thanks to Noelle for letting me host the #crimebookjunkie stop on the blog tour.
Thought provoking review from Claire today!  Sounds like an interesting read! If you think so too, click the wee book below to grab yourself a copy from amazon!