*Fist Bump* – woohoo!  My stop on Lucy V Hay's THE OTHER TWIN blog tour has finally arrived!
Let's find out a little bit about Lucy and her fabulous book which I received from Orenda.
About The Author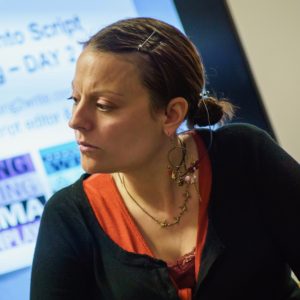 Lucy V. Hay is a novelist, script editor and blogger who helps writers via her Bang2write consultancy. She is the associate producer of Brit Thrillers Deviation (2012) and Assassin (2015), both starring Danny Dyer. Lucy is also head reader for the London Screenwriters' Festival and has written two non-fiction books, Writing & Selling Thriller Screenplays, plus its follow-up Drama Screenplays. She lives in Devon with her husband, three children, six cats and five African Land Snails.
About The Book: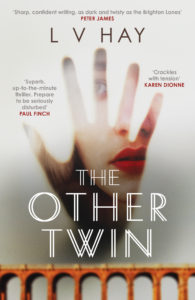 When India falls to her death from a bridge over a railway, her sister Poppy returns home to Brighton for the first time in years. Unconvinced by official explanations, Poppy begins her own investigation into India's death. But the deeper she digs, the closer she comes to uncovering deeply buried secrets. Could Matthew Temple, the boyfriend she abandoned, be involved? And what of his powerful and wealthy parents, and his twin sister, Ana? Enter the mysterious and ethereal Jenny: the girl Poppy discovers after hacking into India's laptop. What is exactly is she hiding, and what did India find out about her? Taking the reader on a breathless ride through the winding lanes of Brighton, into its vibrant party scene and inside the homes of its well- heeled families, The Other Twin is a startling and up-to-the-minute thriller about the social-media world, where resentments and accusations are played out online, where identities are made and remade, and where there is no such thing as truth …
My Rating: 4/5
⭐️⭐️⭐️⭐️
My Review:
Starting in London, but mainly set in Brighton, The Other Twin is a book of manipulation; mind-games; anger; regrets; deceit;the before & after; betrayal; loss; grief; lies; destruction and family dynamics/relationships.
Oh man!  When I started this book I was immediately hooked – my brain was buzzing with the who? what? where? when and why's?! I then got a little confused – my poor wee brain – but once I found my bearings… wow….what a ride! I read this book in one sitting as I just could not put it down.  The story-line was brilliant and really kept me on my toes.
This book was rich with some superb characters.  The main character- Poppy, returns to her home town after learning her sister killed herself.  Poppy is carefree with a reckless twist, clever and more than determined to find out the truths that others are refusing to see.
Matthew- what the heck is his game? I was left wondering where and how he fit into the story; he's Poppy's ex and we learn a lot about their relationship as the story unfolds.  I honestly did not know what to make of him! Jenny was an extraordinary character-deep, strong, vibrant but full of secrets.  I really was drawn to her.  Matthew's parents – Maggie & Alan- were a bit freaky.  I wasn't sure how I felt about them either!  It is difficult to talk about the characters, for fear of giving some of this intense story away.  I wish I could deconstruct and go through each one of them with you all!
I had my own theory about what the story would evolve into – I was wrong and totally off track! The twists were riveting and really added suspense to this book.  Would I recommend it? HELL YEAH, I would! If you are looking for an emotive, sexy, sinister, dark and twisted read….you'll find it in The Other Twin.
Grab a copy via the link below: