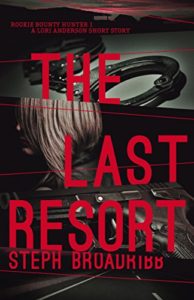 Synopsis:
Done with a life of exploitation and violence, Lori Anderson is training to be a bounty hunter. Holed up in the Georgia Mountains with her reclusive mentor, JT, Lori is determined to put her new skills into practice. Behind JT's back, she breaks his rules and grabs the chance she's looking for. Will her gamble pay off, or will she have to learn the hard way?
The Last Resort is the first in the Rookie Bounty Hunter series of short stories, marking the nail-biting start to a high-octane series of thrillers featuring one of the most unforgettable and fearless female protagonists in crime fiction.
Includes a FREE extract of Steph Broadribb's critically acclaimed thriller, Deep Down Dead, book one in the Lori Anderson Series.
My Rating: 5/5
⭐️⭐️⭐️⭐️⭐️
My Review:
Eeeeeek!  When I opened my emails this morning and saw one from amazon promoting a short story with badass bounty hunter, Lori Anderson – there was no hesitation on my part ….I clicked and bought this badboy without even thinking about it!
Set in the USA – Georgia Mountains to be exact – the reader is faced with survival, anger, fear, determination and the sense of proving one's worth.
OMFG! I was #HOOKED from the first line with this fast-paced, edgy short story.  Despite the length, this was an action-packed read where the descriptions had you feeling every punch, kick and shove- MY ribs were hurting by the end of it!
Lori Anderson is back again, but this time we are taken back in time to her initial training days with the delicious, James Tate (J.T.).  Lori is determined, stubborn and so bloody kickass, I squealed with excitement as the opening lines of the story took hold! I adore this character and I love the fact that even though she "knows better" she is still out to prove that no man will tell her what to do!
J.T – man oh bloody man….*swoon* – he may only play a small part, but he is such a big character, I am left breathless by the sheer mention of his name.  I love his rules and how he doesn't hold back with Lori because he wants her to kickass but be safe at the same time.  His protective nature and genuine loyalty and affection still shines through as he literally kicks the crap out of Lori during her training.
Lori ends up going rogue and after taking a few gut wrenching punches for the team, we are left wondering, will she capture the bounty and prove her worth?  Well you'll have to read the story to find out!
Raw, Edgy and a Real Page Turner – this short story will satisfy your urges as we wait for the sequel to Deep Down Dead.  This ends with the first three chapters of the AWESOME book – read my review here– but can easily be read as a stand-alone.
Grab your copy here at only 99p!