My guest reviewer, Claire Knight is sharing her thought's on Sarah Wray's debut novel: REPORTED MISSING today!  Enjoy!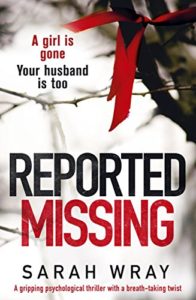 Synopsis
Four months ago, Rebecca Pendle's husband disappeared. So did 14-year-old Kayleigh Jackson.
Just a coincidence? Rebecca wants to believe so… But as the police start to draw parallels between Chris and Kayleigh, it's getting harder for her to trust his innocence.
Faced with an angry town that believes Chris has abducted the teenager, Rebecca tries to discover the truth.
But what she finds shocks her more than she ever thought. How well does she really know the man she loves?
A completely gripping, suspenseful thriller, with a shocking twist. Fans of Louise Jensen, K.L Slater and and The Girl on the Train will be hooked until the very last page.
Claire's Rating: 4/5
Claire's Review:
As soon as Bookouture revealed the cover to Sarah Wray's debut, I knew I had to read it! I'm a sucker for the monotone covers with striking accents!! Particularly ones with red, my favourite colour!
By some pure fluke, I started this slow burner of a psychological thriller on the day that this story is hinged upon, 17 July. The day that teenager Kayleigh and former teacher Chris disappear. Are their disappearances linked or is it just one of life's coincidences to which Chris' wife Becca, our leading lady is clinging to? The whole town is focussing on the disappearance of Kayleigh as you'd expect because she's a teenager but Becca is desperate to find her man despite him being branded as the guy who has kidnapped the young girl.
Becca is one of those characters that you're wary of. She's a victim of circumstance, she's being targeted and forced out of her own home into a caravan park where she's desperate to hide. But she's developed a crutch in the form of alcohol so how much can you trust her? How much is in her mind? I did feel sorry for her, she's being bullied and no one will help her find her husband. She's grasping at straws and pestering the police for updates when their energies are focussed on finding young Kayleigh.
I found the whole story tense, I really wanted to find out what happened to our two missing persons. I'm looking forward to seeing what Sarah has to offer next!
Fantastic review, Claire!  If Claire's review has piqued your interest, click on the wee book below and grab yourself a copy!