All the EEEEEEEEEK's!!  I am so friggin excited to be kicking off THE Tess Gerittsen's I Know A Secret blog tour today!  I am even MORE excited to be sharing an EXCLUSIVE guest post from the author herself!!  I am not even going to babble on anymore – let's get stuck in and find out a bit more about the author (in case you have been living on Mars!!) and her latest offering….
ABOUT THE AUTHOR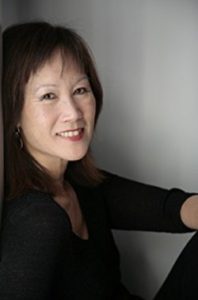 Bestselling author Tess Gerritsen is also a physician, and she brings to her novels her first-hand knowledge of emergency and autopsy rooms. But her interests span far more than medical topics. As an anthropology student at Stanford University, she catalogued centuries-old human remains, and she continues to travel the world driven by her fascination with ancient cultures and bizarre natural phenomena. She started off her writing career with romance novels, now published by Mira. But in 1996 she switched to writing thrillers with her novel HARVEST, inspired by the anger she felt about the illegal trade in human organs. It was her first New York Times bestseller. Since then she has become an internationally bestselling author of crime novels, and her thriller series starring Boston detective Jane Rizzoli and medical examiner Maura Isles is the basis for the hit television series "Rizzoli & isles." She lives with her husband in Maine. For more information on Tess Gerritsen and her novels, visit her website: www.tessgerritsen.co.uk.
ABOUT THE BOOK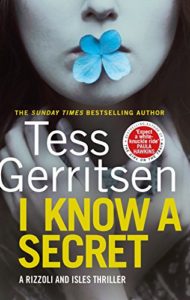 I have a secret.
And someone wants to make sure I never tell . . .
In a house decorated with horror movie posters, a young woman's body is found. She lies on her bed, two bloodied objects clutched in her palm. Detective Jane Rizzoli and Forensic Pathologist Maura Isles are called to the murder scene, but even faced with this gruesome sight they are unable to identify the immediate cause of death.
Their investigation leads them to a high-profile murder case that was seemingly solved years before. But when another body is found in horrific circumstances, the link between the two victims is clear. Was the wrong person sent to prison? Is the real killer out there right now, picking off new targets?
One woman knows the killer is coming for her next. She's the only one who can help Rizzoli and Isles catch him.
But she has a secret that she has to keep . . .
What inspired I KNOW A SECRET?
​As happens with most of my books, the plot of I KNOW A SECRET is a fusion of two different ideas. This is often how I come up with my stories, by melding together two or more premises into one. My 2010 thriller ICE COLD, for instance, was inspired by two different news articles, one about a U.S. military nerve gas accident in the '70s, and another about drivers who blindly followed their GPS's into dangerous situations. My 1999 thriller GRAVITY came to me after I read about recently discovered bizarre single-celled organisms, and then combined that information with the news about a crisis aboard the Mir Space Station. I think that creativity is all about using available tools to invent something new and different. And that's what I do; I combine bits of information in new ways, to come up with something fresh.
​The first element of I KNOW A SECRET came to me while I was exploring churches and art museums in Italy. Many of the paintings I saw were sacred art, and I was getting bored, seeing the same religious themes in painting after painting. In Florence, I bought the textbook HOW TO READ A PAINTING about symbolism in religious art, and it opened my eyes. Suddenly I knew how to identify what had seemed to me merely nameless figures. Now I knew that a woman holding an ointment pot must be Mary Magdalene, the wild-looking man dressed in shabby animals hides is John the Baptist, and the man shot with arrows is St. Sebastian. I became obsessed with decoding the meaning of every painting. Then (because I'm a crime writer) I thought: what if a killer staged murders in the same way medieval artists depicted religious scenes?
​The second thread of my plot came from a real-life experience I had as a filmmaker. A few years ago, my son Josh and I joined forces to make a horror feature film called "Island Zero," about islanders off the coast of Maine who are suddenly cut off from the outside world after the ferry suddenly stops coming. Their phones are dead, and every boat sent to the mainland fails to return. I wrote the script, Josh directed, and we shot the film during a very cold March in Maine. Immersing myself in the world of horror films was a quirky, exhausting experience, and we faced all the challenges of indie filmmaking, from hiring crew and actors, dealing with bad weather, and of course the inevitable snafus. Now that "Island Zero" is on the film festival circuit, I've discovered that horror fans are pretty cool people, and I thought it would be fun to set a novel in their oddball world.
​I combined those two themes, horror filmmaking and religious symbolism, to come up with the plot for I KNOW A SECRET. The story kicks off with a murder scene that baffles Det. Jane Rizzoli and medical examiner Maura Isles. The victim is a female horror film producer whose eyes have been removed post-mortem, and Jane and Maura wonder if the killer is copying scenes from the victim's films. Other murders follow, each crime scene bizarrely staged. To crack the case, Maura must call on the man who could once again break her heart: her former lover, Father Daniel Brophy.
​Jane and Maura race to catch the killer before the final target dies. And the ultimate clue might be the one hiding in plain sight – on a movie screen.​
Wow! Wow! Wow!!! I LOVE this series and can't believe we are at Book 12!!   I am totally #FanGirling at the moment and cannot WAIT to get stuck into my copy of I Know A Secret!  I URGE you all to head over to amazon (I have made it easy…click the book below) and grab yourself a copy of this HOT summer read!!