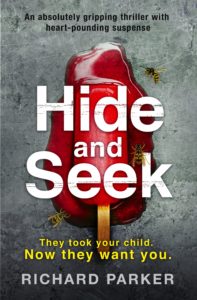 Synopsis:
The sun is out. Your little boy is smiling. The next time you look… he's gone. 
When Lana and Todd win a trip to Blue Crest Adventure Park, their four-year-old Cooper is ecstatic, but when Lana goes to meet them, Todd is out cold, and Cooper is missing.
No one stopped the man carrying the sleeping boy. The cameras don't show where he went. Then Lana receives an anonymous message, telling her to visit a local school with a horrifying history…
This is no random attack. Whoever took Cooper is playing a twisted game, and if Lana wants to find him, she must participate.
What is the link between the school and her missing son? Can Lana uncover the kidnapper's identity and save Cooper before it's too late?
A dark, heart-in-mouth thriller that will keep you reading long into the night. Fans of James Patterson, Karin Slaughter, and Tess Gerritsen will be absolutely hooked.
My Rating: 5/5
⭐️⭐️⭐️⭐️⭐️
My Review:
First off, I have to say WHAT A COVER!  I am totally drawn to covers and this one grabbed my eye immediately. I would have grabbed this beauty off the shelf and raced to the counter to pay – without even reading the blurb- all based on THAT cover! — just had to get that out there….
Set in Jaxton, USA – the reader comes face to face with fear, paranoia, obsession, loss, guilt, manipulation, abuse, damaged childhoods, shame, retribution, the need to be noticed – albeit for the WRONG reasons and the search for justice/the truth.  Needless to say – it is one hell of an emotive journey!
I had high expectations for this book after absolutely

LOVING

Follow You  but I need not have worried as I was hooked from the start – Mr Parker is a true master of suspense! This was one intense and utterly chilling read where technology is used very cleverly in this storyline – I WANT THAT *** No Spoilers***- you'll see what I mean when you read this book! I absolutely loved the way this story was set out and it had me guessing the motivation right until the very end.  Mr Parker is one TWISTED author — but bloody hell – I totally LOVE that!!
Character-wise – this book was full of mad, superb and utterly fascinating creatures of the human kind! Lana, Todd and wee Cooper were the main focus and really got under my skin.  I could feel their fear. See their paranoia and almost taste their angst as each page turned. Life was never the same for this family once the baddie (*shudders*) came into their lives. Poor Lana was determined if not slightly obsessed at finding this vile creature who dared to take away her normal family life. Over protective but also quite vulnerable, I really admired her fierce loyalty to ensuring her family's safety.  Todd was so sure that Lana was over reacting, he was not prepared when tragedy struck again.  However, he fought hard alongside his wife in the hopes that he could be the hero.
The baddie – OMG OMG OMG – great bloody name for a sinister, creepy abductor of children – I won't tell you the name as it is all part of the build up to the story but talk about #namesthatmakemyskincrawl.  I loved the story behind this – and the many twists that followed. Who is he? Is he back again? What the hell is going on and why?  Like I said earlier – total master of suspense, Mr Parker. I want to say so much more, but I fear that would spoil the story – so I won't!
So, the big question is….did I enjoy this book? Would I recommend it to others?  Erm…HELLOOOOOO….this gets a total

HELL YEAH

recommendation from me — with bells on!  If you are looking for a sinister, creepy, edge-of-your-seat read with a twisted, clever and cunning plot…look no further…just click the book below!