Happy Monday, #bookjunkies!  Today, my wee possum #GuestReviewer –
Claire

Knight

is sharing her thoughts on a short story called Environmentally Friendly by Elias

Zanbaka.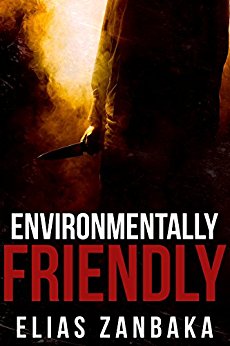 Synopsis:
OUT OF SEVEN BILLION PEOPLE, ONE MAN HAS DECLARED WAR ON MOTHER NATURE AND PLANS TO BRING IT TO ITS KNEES.
OUT OF ALL THE CRIMINALS IN LOS ANGELES, HE'S THE NUMBER ONE TARGET BEING HUNTED BY THE LAPD TONIGHT.
AND OUT OF THE ENTIRE LAPD, ONE OFFICER IS HELL-BENT ON HELPING HIM COMPLETE HIS MISSION.
Claire's Rating: 3.5 ⭐️'s 
Claire's Review: 
"Mother Nature, she does what she wants to do. We can't control it, yet."
Environmentally Friendly is a quick read which needs close attention as everything happens so rapidly! Blink and you miss something in the fast paced action!
Because this book is crammed with action, I had to read it twice to capture the whole thing; but as its only 29 pages (according to Amazon), it is possible to read it twice quickly to pick up what you missed first time round.
If you fancy a quick read and have an open mind looking for something a little different, Environmentally Friendly might be something for you to try!
Many thanks to the author and #Crimebookjunkie for my copy of Environmentally Friendly.
Thanks Claire! If Environmentally Friendly is something you want to check out for those #MondayMorningCommutes – click the link below: