Yay! Today my fabulous guest reviewer- Claire Knight, is hosting Stephen Edger's DEAD TO ME blog tour. First a bit about the author and this book before we find out what Claire thinks of this news series!
About The Author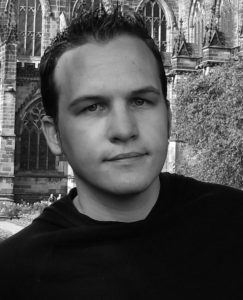 Stephen Edger is a British crime writer, who has been writing since 2010. In that time he has written and published eleven novels, and five short stories. He writes mysteries and thrillers focused on crime.
Stephen was born in the north-east of England, grew up in London, but has lived in Southampton since attending university in the year 2000. Stephen works in the financial industry, and uses his insider knowledge to create the plots of his books. He also has a law degree, which gives him a good understanding of the inner workings of the UK justice system.
Stephen is married, and has two children, and two dogs. He is passionate about reading and writing, and cites Simon Kernick and John Grisham as major influences on his writing style.
About The Book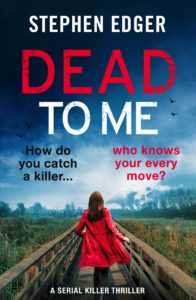 How do you catch a killer who knows your every move?
The woman lay flat on the table, her face to one side, her wrists bound with thick tape. Deep scratches marked the wood beneath her fingers, now resting cold and still…
When a woman's body is found in an abandoned bar near the Southampton docks, Detective Kate Matthews is called in to lead the investigation. She must solve this case to prove she is coping with the death of a close colleague.
Kate knows a pile of ripped up newspaper cuttings discovered at the victim's house must be a piece of the puzzle, but her team keep hitting dead-ends… Until she finds a disturbing clue that convinces her of three things: The murder is linked to the body of a man found hanging in a warehouse, she is on the hunt for a calculated serial killer, and the killer is watching her every move.
Kate realises there will be another victim soon, and that her own life is in grave danger, but no one else believes her theory. Can she find and stop the most twisted killer of her career, before another life is lost?
An absolutely NAIL-BITING thriller that will keep you guessing to the very last page. Perfect for fans of Robert Dugoni, James Patterson and MJ Arlidge.
Claire's Rating: 5/5
⭐️⭐️⭐️⭐️⭐️
Claire's Review:
"All work and no play makes Kate a dull girl."
Having read a couple of Stephen Edger's Johnson Carmichael books, I was rather excited to see what he had to offer with a more police procedural novel. And to be frank, I was not disappointed!!
There are so many adjectives I could use to describe this dark and rather gruesome novel. Parts of it I really shouldn't have read whilst dealing with poorly children – I love my food but the sections I read made my stomach turn so mixed with events at home, I was off food longer than normal…..
I felt our leading lady, Kate had an air of aloofness about her. I was intrigued to find out whether this was a case of nurture (the events that caused her to leave London) or its part of her natural demeanour. Oh and the events in London….I want to know more!!!!! I implore you Mr Edger to let me find out whether that will be solved in Book 2!!!
There is definitely a different feel to Dead to Me compared to my previous experience of the author's writing. This is not a bad thing; Stephen Edger is showing his storytelling is stretching into a darker, more twisted place and I like it…. He certainly kept me guessing right to the end and beyond #nospoiler
Many thanks to Bookouture for my copy of Dead to Me and for inviting me on the blog tour. And a muchos gracias to Noelle for letting me host the #Crimebookjunkie stop on the blog tour!
Great review, Claire! Want to know more about #DIKateMatthews? Grab a copy of this AWESOME read via the links below: