Thrilled to share that Marilyn Messik's  WITCH DUST blog tour starts August 28th!! Kate Moloney – star organiser extraordinaire, has once again gathered an awesome #BandOfThieves together to #ShareTheBookLove in the penultimate blog tour for Thick As Thieves Publicity & Promo Services. 

Witch Dust

 was published by Matador on June 12th 2017. There will be reviews, extracts, guest posts – you name it, to keep you hooked on this tour!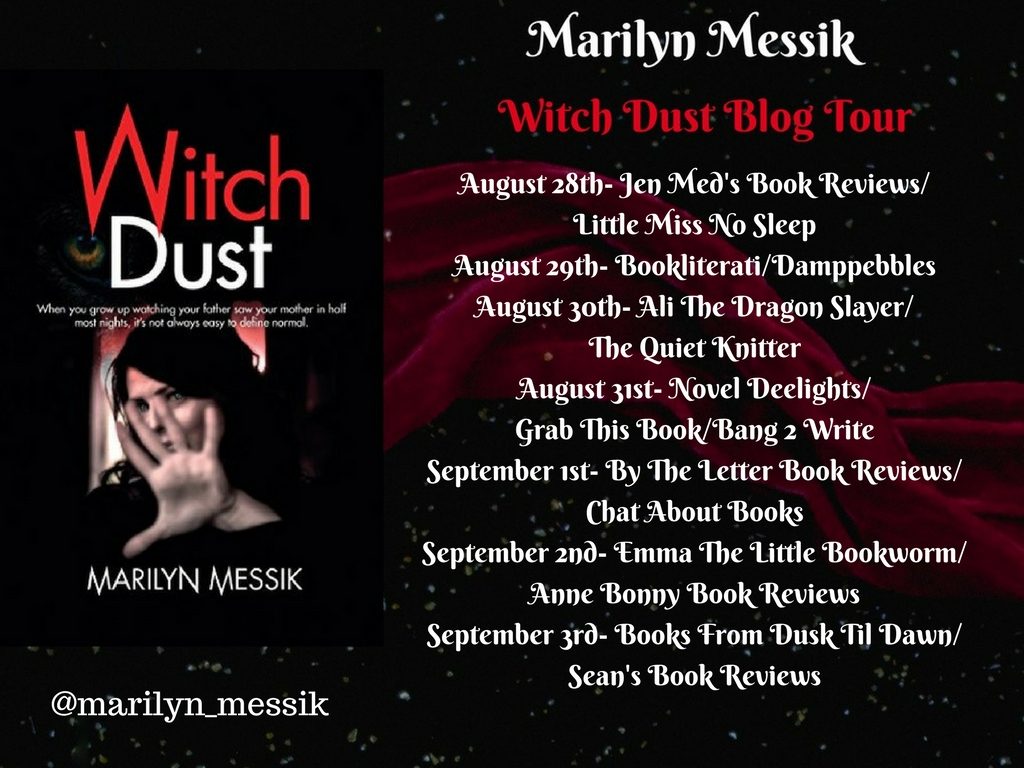 About The Book:

"A red gash of a mouth rimmed with impossibly tiny, razor-sharp teeth yawned wide, then swift as a snake, she bent and struck . . . "
For Sandra, daughter of illusionists, Adam and Ophelia, life's never been run of the mill. But when Adam's wandering eye lights on yet another conquest, it proves a chorus girl too far, and Sandra's caught in the reverberations of her parents acrimonious parting. Coerced into restoring her depressed Mother to the bosom of a family Sandra never knew existed, she's sucked into a situation that even for her is unnerving.
From being without a single relative, she suddenly acquires several she'd rather do without, and learns a few home truths she'd prefer not to know. Ophelia it appears, has not been entirely honest about any number of things. There's no doubt in Sandra's mind, the sooner she puts as much distance as possible between herself, her newly discovered nearest and dearest, their peculiar tendencies and their failing hotel business, the very much happier she's going to be.
Dire straits call for desperate measures and Sandra reluctantly rises to the occasion. A hanged housemaid, a fly-on-the-wall documentary, The Psychic Society and a quasi co-operative journalist all handled correctly should, she reckons, get the family business up and running, which will allow her to do the same – as fast as she can, and in the opposite direction. Things unfortunately move swiftly from bad to farce and then get a hell of a lot darker. One moment Sandra's struggling to save the family's income, the next, she's battling to save their lives.
Turns out, some darknesses, once buried, are best left undisturbed.
WOW! Sounds like an AWESOME read, right?! If you are already intrigued, and can't wait for the blog tour – you can pick up a copy of this paranormal suspense thriller HERE! See you August 28th, #bookjunkies!!