Woohoo!  Here is the third #minireview of five for my Bloody Scotland reads.  I was lucky enough to receive Ann Cleeves' COLD EARTH and what a pleasure to read it was!  Let's find out more about the author and this book before I share my thoughts – though I highly suspect there is no need….after all…. it is Ann Cleeves!
About the Author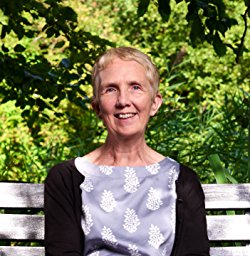 Ann Cleeves is the author behind ITV's Vera and BBC One's Shetland. She has written over twenty-five novels, and is the creator of detectives Vera Stanhope and Jimmy Perez – characters loved both on screen and in print. Both series are international bestsellers.
In 2006 Ann was awarded the Duncan Lawrie Dagger (CWA Gold Dagger) for Best Crime Novel, for Raven Black, the first book in her Shetland series. In 2012 she was inducted into the CWA Crime Thriller Awards Hall of Fame. Ann lives in North Tyneside.
About the Book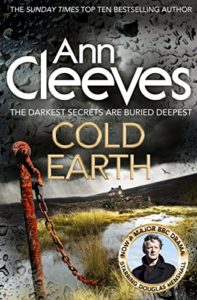 Cold Earth is the seventh book in Ann Cleeves' bestselling Shetland series – a major BBC One drama starring Douglas Henshall.
In the dark days of a Shetland winter, torrential rain triggers a landslide that crosses the main Lerwick-Sumburgh road and sweeps down to the sea.
At the burial of his old friend Magnus Tait, Jimmy Perez watches the flood of mud and peaty water smash through a croft house in its path. Everyone thinks the croft is uninhabited, but in the wreckage he finds the body of a dark-haired woman wearing a red silk dress. In his mind, she shares his Mediterranean ancestry and soon he becomes obsessed with tracing her identity.
Then it emerges that she was already dead before the landslide hit the house. Perez knows he must find out who she was, and how she died.
Also available in the Shetland series are Raven Black, White Nights, Red Bones, Blue Lightning, Dead Water and Thin Air.
My Rating: 4/5
⭐️⭐️⭐️⭐️
My #MiniReview: 
Well I am absolutely ashamed to say that although I have watched (and loved) the Vera series on tv, this is the first book by Ann Cleeves' that I have read.  In my defence, I do have some books on my kindle….I just have not had the time to actually read them – but that will soon change.
Set in Shetland, the reader is pulled into a compelling, elaborate and totally intriguing story-line that totally had me from the get go.  The story was filled with twists and turns that kept me guessing as the case unfolded.  For me, it ended quite abruptly – but that is not to say I didn't enjoy it – I certainly did! I think I just wanted more! #GreedyReader Although this could easily be read as a stand-alone, I did feel like I had missed out a bit on how some of the fabulous characters had developed.  For that reason, I will definitely be going back and reading more from this series.  I thought the characters were well-developed and quite likeable in the main.  I certainly want to know more about Jimmy Perez and this love interest! Oo-er!
Overall- if you are looking for a great mystery, a dark read with a few twists to get your head spinning, I would certainly recommend you check out this book!  If you are a newbie to the series like me, treat yourself to a few more and get acquainted with the characters!
Grab your copy of Cold Earth here: