Happy Monday, #bookjunkies!  Today I am thrilled to be taking part in James Hazel's The Mayfly blog tour and sharing an extract to whet your crime appetite!  I have started to read this, so expect a review in the not-to-distant future!  Let's find out a bit about the author and this book first though!
ABOUT THE AUTHOR
Before turning his hand to writing, James Hazel was a lawyer in private practice specialising in corporate and commercial litigation and employment law. He was an equity partner in a regional law firm until he quit legal practice to pursue his dream of becoming an author. He has a keen interest in criminology and a passion for crime thrillers, indie music and all things retro.
@JamesHazelBooks​​
JOIN THE CONVERSATION: #THEMAYFLY
ABOUT THE BOOK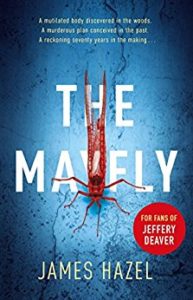 A mutilated body discovered in the woods.
A murderous plan conceived in the past.
A reckoning seventy years in the making . . .
When lawyer Charlie Priest is attacked in his own home by a man searching for information he claims Priest has, he is drawn into a web of corruption that has its roots in the last desperate days of WWII.
When his attacker is found murdered the next day, Priest becomes a suspect and the only way to clear his name is to find out about the mysterious House of Mayfly – a secret society that people will kill for.
As Priest races to uncover the truth, can he prevent history from repeating itself?
Chapter 1 – Extract
December. Post-festivities. The frozen earth was veiled in a thin covering of snow that crunched under Detective Chief Inspector Tiff Rowlinson's boots.  In a glade, the log canin looked as though  it had come out of a fairy-tale, complete with a tall stone chimney and heart-shaped etchings above the door.  A local landowner had built it for his daughter as a summer house sixty years ago, but it had long since been abandoned, and was now swathed with climbing plants and moss.  A sanctuary built out of love and innocence, defiled in the most grotesque manner.
Rowlinson slowly circled the little wooden structure, his hands behind his back and his coat collar turned up inside the white plastic overall.  The crime scene investigators mingled uncertainly, watching where they trod.  They had established a perimeter with reams of blue-and-white plastic tape around the glade.  Rowlinson had been here before, too many times.  He had seen too many bodies, too many weeping lived ones and too few prosecutions.  He didn't feel much anymore.  The endless cycle had anaethetised him.
Except in these woods.
In these woods, Rowlinson felt again.
He approached the entrance to the cabin and ducked through the doorway.  Inside, the air was stale and heavy.  He fumbled for the inhaler in his coat pocket.  Felt a little relief at feeling the familiar plastic tube and the tip of the metal cannister.  He no longer noticed the bitter cold.
The room was empty, save for the victim…..
Ooooooh!  What happens next?  To find out, you'll have to read the book….but it's good!  Grab a copy by clicking on the wee book below!  At the time of posting, it's only 98p so what have you got to lose!