Today my guest reviewer, Claire Knight, is hosting Kristen Lepionka's THE LAST PLACE YOU LOOK blog tour! Woohoo!  Claire has written a cracking review, so let's get the bookish/author info up so you can see what it's all about!
About The Author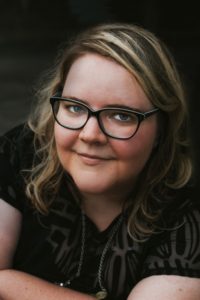 Kristen Lepionka grew up mostly in a public library and could often be found in the adult mystery section well before she was out of middle school. Her writing has been selected for Shotgun Honey, McSweeney's Internet Tendency, Grift, and Black Elephant. She lives in Columbus, Ohio, with her partner and two cats.
About The Book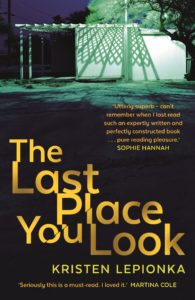 What really happened to Sarah Cook?
Sarah Cook, a beautiful blonde teenager disappeared fifteen years ago, the same night her parents were brutally murdered in their suburban Ohio home. Her boyfriend Brad Stockton – black and from the wrong side of the tracks – was convicted of the murders and sits on death row, though he always maintained his innocence. With his execution only weeks away, his devoted sister, insisting she has spotted Sarah at a local gas station, hires PI Roxane Weary to look again at the case.
Reeling from the recent death of her cop father, Roxane finds herself drawn to the story of Sarah's vanishing act, especially when she thinks she's linked Sarah's disappearance to one of her father's unsolved murder cases involving another teen girl. Despite her self-destructive tendencies, Roxane starts to hope that maybe she can save Brad's life and her own.
With echoes of Sue Grafton, Dennis Lehane and the hit podcast Serial, The Last Place You Look is the gripping debut of both a bold new voice and character.
Claire's Rating: 4.5/5
Claire's Review:
What happened to Sarah Cook? I found I was asking myself a lot as I read this debut novel. How can a young woman just vanish on the day her parents are brutally murdered?? Did her boyfriend murder the three of them? Did she do it? Did she run away? So many questions!!!
I really liked our main character Roxane (one "n" not two). She's a head strong woman with two very different brothers – that's possibly why I identified with her as I too have two brothers both different in personality. I loved the banter and disagreements she had with her brothers and the differing ways they handle the matriarch of their close knit family.
I hope to see more from Kristen Lepionka and Roxane! Its hard to believe this is the author's first novel. The writing really drew me into the investigation. I'm not the biggest fan of crime thrillers set in the States but the author's writing style is adding weight to the argument that I need to change my opinions!! As for suspects, I went up so many blind alleys and hit dead ends as Roxane dug more and more into the goings-on in Belmont – totally blindsided!!
The community in which Roxane finds herself has a proper small town feel – it's a intimate community where the police seem to know everything that is going on. This is one thing that hinders Roxane in her investigation.
This is a cracking debut and I highly recommend you get yourself a copy if you like your crime fiction with bags of suspense to keep you guessing. I can see why Val McDermid has selected this novel for her New Blood: Class of 2017 showcase at this year's Theakston Old Peculier Crime Writing Festival
Many thanks to Lauren Nicoll of Faber and Faber for my copy of The Last Place You Look and for asking me to take part in the blog tour! And huge thanks to the fabulous Noelle for letting me host the #Crimebookjunkie stop of the tour – I think this is another book you might enjoy…..
Already added to the wishlist, 'lil star! I had this author on my radar, so will definitely be
 t

his book at some point!  Great review!  If Claire has piqued your interest too, just click on the wee book below!