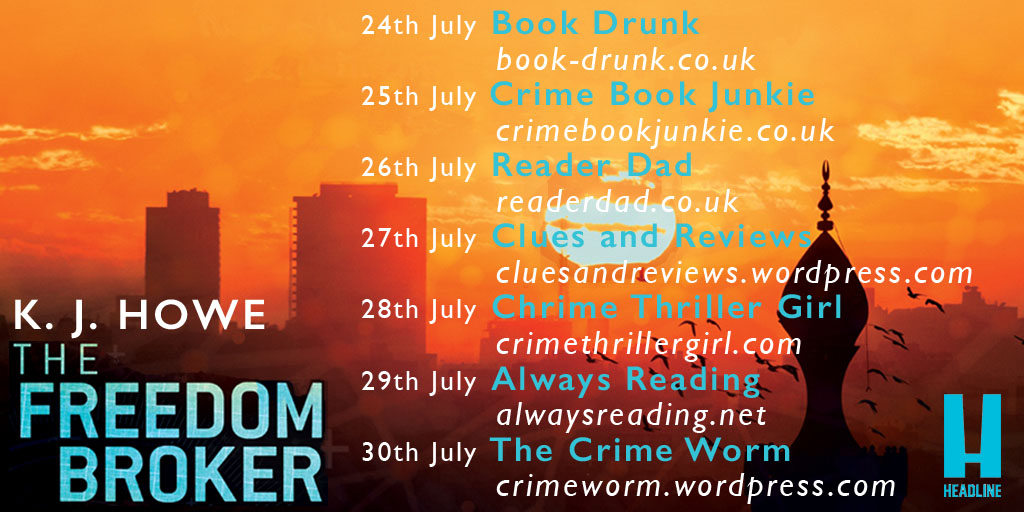 #BOOM! ?? I am SO excited to be taking part in the ever so awesome K.J. Howe's The Freedom Broker blog tour! I bought this book a while back, so when given the opportunity to take part in the blog tour, I jumped at the chance as it pushed this #badboy to the top of my TBR!   Enough rambling from me though – let's find out a bit about this AWESOME writer, her experience as the Director of THRILLERFEST and her DEBUT novel!
About The Author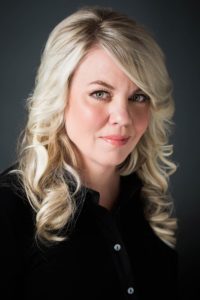 What I've Learned as the Director of ThrillerFest
What do Lee Child, Peter James, Scott Turow, Lisa Gardner, and Sandra Brown have in common? They are active members of the International Thriller Writers organization. Every July, ITW has a conference called ThrillerFest where over a 1000 thriller enthusiasts come together in NYC to celebrate the genre. Imagine yourself as an aspiring opera singer and Pavarotti and Andrea Boccelli were at the same conference to share their experiences and advice about your singing career. Now translate that to the world of thriller writing—that is what ThrillerFest can offer aspiring novelists. I've had the distinct honour of being the Executive Director of ThrillerFest for the past eight years, and it has been a joy to learn about crime writing from the masters.
As I worked on my debut novel, THE FREEDOM BROKER, being part of ThrillerFest has been phenomenally helpful. We have a fun, friendly, and professional conference, and you'll love meeting some of your favourite authors in the hallways. Don't be surprised if they ask about your book—as they're keen readers, they're always looking for a great novel.
Every year at ThrillerFest, we kick off the week with an intensive retreat at the FBI offices in Manhattan. A host of agents with different areas of expertise—from cybercrime to counterterrorism to jewelry and art theft—share their experiences in the field and answer questions from our curious attendees. This kind of "back-stage" access is pretty incredible, and we have enjoyed partnering with the FBI for several years now. ITW and the FBI share a common goal of making sure that crime novels offer an accurate representation of the inner workings of the agency.
Continuing this educational programming during CraftFest, we bring in experts in all things crime. We've had agents from the FBI, CIA, ATF, Secret Service, US Marshalls and many other organizations join us, offering a gold mine of information. For example, I was fortunate to learn about the Hostage Recovery Fusion Cell, a relatively new multi-agency group spearheaded by the FBI that focuses on helping American hostages abroad. In my novel THE FREEDOM BROKER, I have a character who works for this key organization as a kidnapping and hostage negotiator. So getting this insight was hugely helpful to me personally. We've also hosted Navy SEALS, other Special Forces operators, K-9 officers with their counterparts, forensic dentists, blood splatter specialists, cybercrime gurus, and forensic anthropologists to name a few. It's truly a treasure trove for thriller authors.
We also have many NYT bestsellers who teach at CraftFest. Imagine the generosity of these talented writers sharing the lessons they have learned during their writing journey. There are so many gems of wisdom imparted that I've often filled entire notebooks with writing tips and story ideas. Given there are four tracks going on at the same time, it's often difficult to choose which session to attend—but don't worry, as all the sessions are recorded, so you can purchase the CDs to listen to them at home. Having the chance to listen the the lectures again and digest them at your own pace multiplies the value you get from the instruction.
We also host an event called PitchFest, which I affectionately call "the zoo", where aspiring authors can pitch their books to over 60 top literary agents, editors, and producers. To prepare our attendees for this wonderful opportunity, we offer "how to pitch" classes along with an intensive practice pitch session, so everyone is ready to deliver a polished pitch to their dream agent. Pitching is definitely a skill that can be honed, and over time, authors can really improve their approach so they can hopefully land the right agent along with a publishing contract.
We also have a special debut author program, where established writers meet with the debuts to give them helpful suggestions about working with their publishers in the most positive and proactive way. It's pretty incredible that authors like Steve Berry, David Morrell, Gayle Lynds, and Lee Child are there to advise our young authors on their career choices. All of these generous individuals have been instrumental in getting my career off the ground. During ThrillerFest, we also host a large variety of panels on everything from writing good dialogue to sex in thrillers—loads of classes you won't want to miss. And we have spotlight interviews where the top thriller writers in the world are interviewed about their careers.
Perhaps the highlight of the conference is the networking opportunities. We have lunches, cocktail parties, and a spectacular awards banquet the week of ThrillerFest. Phenomenal authors, publishers, dream agents, top reviewers, and other fascinating thriller enthusiasts join us for lively discussions about crime writing, a topic we're all passionate about. I'm honoured to be part of this organization, to have the pleasure of knowing so many wonderful people in the industry, and I give many thanks to everyone who helped me on my journey to becoming the published author of THE FREEDOM BROKER, a lifelong dream of mine.
If anyone has questions about ITW or ThrillerFest, I'd love to hear from them. My email is kimberleyhowe@thrillerwriters.org. Come join us in NYC for a criminally fun adventure.
Kim J. Howe is the author of The Freedom Broker (27th July, Headline) which follows elite kidnap and ransom negotiator Thea Paris as she saves people from the world's most dangerous locations. She faces her biggest challenge yet with the most important client of her career: her father. Find more information on Kim's website.
MY REVIEW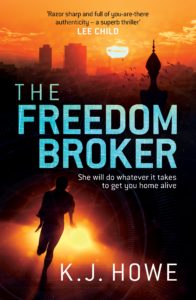 Thea Paris is one of only twenty-five elite professionals in the world with the ability to bring hostages home safely. International negotiation, undercover operations and extractions are a part of life. Their only objective: release.
For Thea, her family's wealth meant kidnap was a constant threat and their worst fears were realised when her brother was kidnapped. Although he was returned, she made it her life's mission to stop others suffering the trauma they did.
Now Thea's past is about to come back with a vengeance as her billionaire father is taken.
With her professionalism challenged to its limits, all Thea knows is that she has to get her father back alive, at any cost.
My Rating: 5/5
⭐️⭐️⭐️⭐️⭐️
Prepare yourselves for a lot of Eeeeeeek's and OMFG's peeps as this book has me sooooooo excited, you may actually hear me squeal!
Set in various parts of the world, such as Nigeria, Columbia, Greece and the main HQ in London, The Freedom Broker has the reader facing kidnapping, survival, guilt, anger, revenge, denial, betrayal and family relationships – of a semi dysfunctional sort!
The plot was unrelenting, riveting and kept me hooked from the get go.  I love it when a book has my heart racing and adrenaline pumping all the way throughout!   You know those kind of books where the storyline has you racing through the pages, where you forget to breathe until you reach those points that completely throw you into a meltdown ….yeah…THAT!  The narrative, research and descriptions were believeable and so well written, I felt like I was right there in the thick of it all with Thea.  A-MAZE-ING!
Those one or two of you that follow my blog, will know how much I just love my characters!  Whether I like or dislike them, if they are well written and manage to get themselves under my skin, leaving an imprint that makes them unforgettable…well, I will follow their journey.  Thea Paris is one of those characters! Thea has her own battles and secrets, but is a strong, kick-ass female lead.  LOVE that! She is a negotiator – intelligent, loyal, courageous and totally badass; resilient, fierce and also vulnerable – this is one lady who can "have my six" any time! (google it ?)
Rif Asker was another great character.  A childhood family friend, he sees things others might miss. Objective but extremely protective of those who he cares about.  At first, I didn't really know what to make of him, but as the story progressed, his character really came into its own.
Nikos, Nikos…Nikos. Wow!  Now this character fascinated me.  I was completely torn between loving and loathing him.  The revelations were mind blowing and his devotion to his sister unquestionable…but OMFG…I would NOT want to tick this guy off! ?
The final character I want to mention (but let me be clear, there are oh so many I could have mentioned) is Gabrielle Farrah.  Initially I didn't find her memorable at all- a government agent, I thought she was a bit…well…typical, I guess.  But the author worked her magic and turned this character into one that really made me root for her.
Although this is a fast-paced, kickass thriller, there is also just a hint….a tease…of romance wafting in the air, which to me added just one more exceptional dimension to the characters, the theme(s) and the storyline overall.  It was clear that KJ Howe did her research making this debut one of my #TopReadsof2017!
So do I recommend this book?  OMFG….did you read my review?  I absolutely, unequivocally and most definitely am saying HELL YEAH! If you are looking for a debut novel that reads like a pro wrote it – I suggest you head over to amazon and grab a copy of The Freedom Broker now!  Oh, I also had the pleasure of meeting KJ Howe and her awesome husband at Theakstons Old Peculier Crime Festival this past weekend.  We talked books, writing and Thrillerfest- I loved that she spent the time chatting with me – an inspiration – and an experience I won't forget!