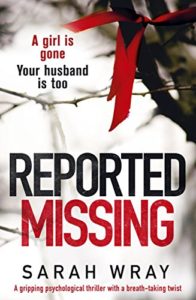 Synopsis
Four months ago, Rebecca Pendle's husband disappeared. So did 14-year-old Kayleigh Jackson.
Just a coincidence? Rebecca wants to believe so… But as the police start to draw parallels between Chris and Kayleigh, it's getting harder for her to trust his innocence.
Faced with an angry town that believes Chris has abducted the teenager, Rebecca tries to discover the truth.
But what she finds shocks her more than she ever thought. How well does she really know the man she loves?
A completely gripping, suspenseful thriller, with a shocking twist. Fans of Louise Jensen, K.L Slater and and The Girl on the Train will be hooked until the very last page.
My Rating: 4/5
⭐️⭐️⭐️⭐️
My Review:
Oooooooh!  I love when a debut novel just wraps its icy hooks around you and chills you to the core! That is exactly what Sarah Wray's Reported Missing did to me – I am only sorry I waited so long to pick this beauty up!
Set in the seaside town of Shawmouth, the reader is instantly faced with sadness, fear, loss, misplaced guilt,  mistrust, hope, terror & torment, a search for the truth that has you questioning everything you thought you knew.
Told in the first person POV, this story had me breathless – there was an intensity in the plot that just kept me wanting to know more.  This is not a fast-paced read, it can't be- it shouldn't be- because the reader is taken on a journey with the main character in her search for answers.  I was hooked from the start and immediately knew that I, like Becca, had unanswered questions that I needed to find the truth to as well!  What I learned shocked me and made this book memorable!
Characterisation was a strength in this novel and something that really pulls me into a book. There were a lot of characters to keep this storyline tight and unwavering.  Becca (Rebecca) Pendle is the main character – we are told the story through her eyes. Becca is broken; tormented by those in her small hometown, she questions everything she once believed to be true.  It was almost tragic and I really felt for her. We feel her thoughts, emotions and actions as if we are right there with her. Becca had a determination and courage that made me urge her to succeed in her search for the truth.
I loved her friend Jeannie.  Wanting to help her friend but also wanting to encourage her to face the fact that sometimes the truth hurts – even when we can never be sure of what that truth is.  Paige and Kat were another two that dominated (in a good way) this story.  I was constantly torn between feeling sorry for them – two young girls whose friend has gone missing on the one hand but also Paige being a right gobby cow! I actually wanted to smack her a few times! 😜
Becca's husband is a mystery.  As the story develops, we learn bits and pieces about him – but if I am honest, I think I would have liked to have known more!  What makes a man leave his wife, no calls….no note…and on the same day a 14 year old girl goes missing! And Kayleigh…where does she fit into all of this? What is her story?  Like Becca, I was going crazy trying to figure it all out!  This novel really brought to the forefront that sometimes we tarnish people as guilty and expect them to prove their innocence!
Do I recommend this book?  Hell Yeah, I do!  This was a well crafted read and I was amazed it was a debut novel!  It has an intensity to it, beautifully written and something that is totally believable!  If you like atmospheric reads, with mystery, suspense, allure and a twist that will surprise you – this book is definitely one you will want to add to your TBR!
To grab a copy – just click the wee book below!