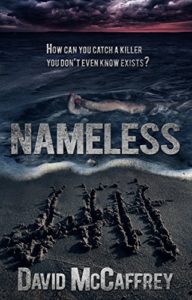 Synopsis:
'There is no hunting like the hunting of man, and those who have hunted armed men long enough and liked it, never care for anything else thereafter.'
Ernest Hemingway
One serial killer terrified the world. Imagine what an army of them could do…
A cult member is arrested at the scene of a brutal murder. She will only speak to former crime reporter, Joe O'Connell.
Joe's obsession with Obadiah Stark a.k.a The Tally Man cost him everything.
He is about to learn that Stark's message did not end with his death.
They believe in what The Tally Man stood for.
They believe in what The Tally Man did.
But he was one, and they are many.
Once they have you, they will never let you go…
My Rating: 5/5
⭐️⭐️⭐️⭐️⭐️
My Review:
Massive thanks to the author, David McCaffrey for providing me with an ARC to read/review.  Below is my unbiased opinion.
Set in various part of Ireland, this book pulls the reader into a cat & mouse game where deception, loss, betrayal, power & control, manipulation, twisted ideals and a search for answers dominate our thoughts.
For me, this was a fast paced read. I was immediately drawn in by the #killerhook which grabbed my attention from the start. Once I was hooked, I did not want to put this book down and spent those rare moments I could snatch some time to read, curled up with Joe O'Connell.  The story-line was riveting and I really immersed myself into how easily people could be manipulated if the right buttons were pressed.  I loved how references to real-life serial killers were  woven into the narrative, so it almost read as a chilling, true-life account.  I have been perhaps a little fascinated by serial killers, from a very young age, so I knew I was on to a winner after only a few chapters.
Character-wise, we are on to another winner here.  The story was not drowned out or confused by various, unimportant people, even though there were many individuals involved in the story.  A few characters really stood out for me- the first being Joe O'Connell – an ex- journalist (crime column) who is pulled into something he knows he should steer well clear of!  He has a great personality, determined and passionate with a sense of humour that really endeared me to him.  Another #fictionalcrush added to my list!  What I liked about him was his normalcy – there wasn't anything extraordinary about him and he was believable as a character.  This of course made me want him to succeed.
Lamont Etchinson- well WTAF?  Leader of the "Branch Obidians" he is clever, cunning, cruel and obsessed with the serial killer Obidiah Stark.  Needless to say, I didn't want him to succeed, but was quite fascinated by him. I would have loved to have been able to delve into his psyche- but that perhaps is the criminologist in me, rather than the reader!
Sim- LOVE her! Sarcastic, fiesty but also quite vulnerable.  Sim is an IT expert who Joe is friends with.  She is an introvert, extremely clever and the banter between Joe and her is fantastic.  I really thought she added to the story and helped move it forward.  Brilliant!
Maxine Groves – did not like her from the start.  There was just something about her that reeked of deception. Keep your friends close and your enemies closer sprang to mind when she initially appeared.  Her motives were questionable and the red flags were waving.  But if Joe trusted her, why shouldn't I? I generally go with my gut on these things – I don't always get it right- but you'll have to read the book to find out whether my gut failed me this time!
Do I recommend this book?  Oh my dear sweet jesus- I do!!  Nothing draws me into a book more than one that throws everything I love: crime, murders, serial killers, reality – into a story so well-written you have to wonder whether or not it happened.  That is this book!  There were some spine-tingling twists which threw my off guard and made me devour this book as quickly as I could!  I loved it so much, I started on book 2 – In Extremis- right away …the author kindly pointed out that there were spoilers from Hellbound- but I didn't care and I finished it within hours, feeling a want for more…so now I am reading Hellbound!  A #MccaffreyBinge ?  I'll neeeeed another one sooooon!
I had the pleasure of meeting David Mccaffrey at Newcastle Noir At The Bar in May of this year – an awesome guy and a very talented author!  Grab a copy of Nameless via the link below. (And Hellbound is currently only 99p – so why not treat yourself to the whole anthology-  read them in order – you will be glad you did!)