HAPPY PUBLICATION DAY, MATT HILTON!
I am absolutely over the moon to be sharing my review on Publication Day – massive thanks to Matt Hilton and Canelo for providing me with an ARC of Marked for Death!
Hope you have a great day, Matt! – *clinks celebratory champagne glasses* 🥂
SYNOPSIS/ABOUT THE BOOK: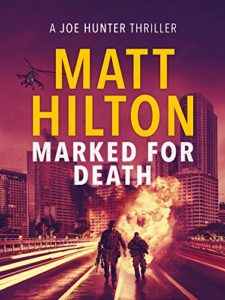 Joe Hunter has been Marked for Death in his most explosive outing to date.
It should be a routine job. Joe Hunter and his associates are hired to provide security for an elite event in Miami. Wear a tux, stay professional, job done.
But things go wrong.
Hunter is drawn into what appears to be a domestic altercation. When he crosses the mysterious Mikhail however, he soon finds something altogether more sinister…
Before long this chance encounter has serious repercussions for Hunter and his friends. Good people are being killed. On the run, in the line of fire, the clock is ticking.
From the bars of Miami beach to car chases and superyacht grenade battles, bestseller Matt Hilton dials up the intensity in this rip-roaring, set-piece filled thriller perfect for fans of Lee Child, David Baldacci and Stephen Leather.
My Rating: 5/5
⭐️⭐️⭐️⭐️⭐️
My Review:
Woohoo! Nothing excites me more than a kickass action crime thriller set in the good 'ol US of A! Marked for Death takes the reader to Miami, Florida where they are confronted with power & control, violence, revenge, exploitation, loyalty and the need for justice by righting some wrongs!
To say I was instantly hooked from the start would be an understatement! If I HAD bollocks (and I assure you, I don't!) I would say that this book grabbed me by them and slung me into a hunted vs prey scenario that was relentless, riveting and totally enthralling!  The story-line was intriguing and the plot was fast-paced to the point that I just did not want to put this book down!
Joe Hunter… 😍 Swoon 😍 is becoming a fast favourite for me in this genre of crime thrillers.  He is a stand-up, ordinary guy who finds himself in extraordinary situations.  Loyal, protective and not afraid to use his fists when necessary, Hunter is the type of guy you want on your side.  His character is likeable, believable and just plain awesome!!!  I have to say, I am totally #HookedOnHunter!
We are introduced to Trey (Tracey) Shaw early on in the book- a victim…or survivor…who is vulnerable but at times shows an extreme determination to escape her low life husband.  Her backstory is well written and gripping.  As a reader I was urging her to use the courage and strength it was clear she had.  I really was drawn to this character and loved following her through out the story.  Will it be a happy ending for Trey?  You'll have to read the book to find that out!
Another character I was pleased to come across again was Rink! Hunter's best mate and "boss" of sorts.  I love his passion and loyalty.  The banter between Hunter and Rink is great! You really get a feel for the mutual respect and friendship this pair share.  This extends to the crew assembled for the security job and you soon learn what lengths these friends will go to for each other.  Bloody brilliant!
Now can we talk baddies?!  Sean Cahill, Dan StJohn and Mikhail Viskhan – what a brilliant bunch of vile individuals – all for different reasons.  One in particular was absolutely vile and I just wanted to see Hunter and Rink do some serious damage ….in fact, I was so drawn in, I wanted to inflict some damage myself!
OMFG what a book!  The action scenes were so believable, I could picture them in my mind as they were happening.  Would I recommend this book?  You bet your sweet arse I would!  If you like intense, action-packed, #JustOneMorePage type of reads, you won't go wrong picking up a copy of Marked For Death now!  Although this is part of a series, this is the second book in this series I have read easily as a stand-alone….I just might have bought a few others in the series though as I will need my #HunterFix before the next book is out!
You can grab a copy of Marked for Death here: