I was thrilled to be asked by Sam Gale/Killer Reads to take part in the blog tour for John A Lenahan's debut crime novel

– Ice Lake.

 Hope you enjoy my review! 
About The Book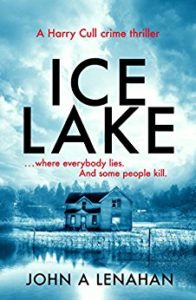 …WHERE EVERYBODY LIES. AND SOME PEOPLE KILL…
An electrifying debut crime novel and the first in a new series featuring psychologist Harry Cull. Perfect for fans of Stuart MacBride, Mark Billingham and Peter May.
AN ABANDONED BODY
Deep in the woods of north-eastern Pennsylvania, the body of a man is found – shot three times, dumped under the trees where the local kids will find him.
A HAUNTED PSYCHOLOGIST
Psychologist Harry Cull, tormented by his past, arrives in the picturesque town of Ice Lake to help with the murder investigation. There he unravels a web of lies and deceit that leads to the dark heart of a community torn apart by fracking, drugs and murder.
A DESPERATE KILLER
It's not long before the second corpse turns up, this time a lawyer left for dead in the forest, and Harry finds himself on the trail of a twisted killer – who will do anything to keep the town's darkest secrets buried.
My Rating: 4/5
⭐️⭐️⭐️⭐️
My Review:
Set in Ice Lake, Pennsylvania the reader is faced with loss, greed, love, corruption, cover-ups, power & control and a web of deceit.
I was immediately hooked when the story began but did not find the pace to be particularily fast at first.  Instead there was a subtle and gradual build up which actually suited this story and the narrative perfectly in my opinion.  It was a cleverly devised story-line which had a whodunnit feel with a lot of great mysteries and revelations thrown in the mix, and "that's no lie!" 😜  For some reason this book had a Northern Exposure (tv show I used to watch) meets Fargo type of feel to it for me….I can't explain why…it just did…and I loved that!
I particularly enjoyed the humour and characters in this novel, especially Harry Cull, who I was not immediately drawn to. However, as the story and his character developed, he really got under my skin- in a good way! His unique ability to be able to recognise a lie within seconds was fascinating and obviously is a great asset to him.  He was down to earth, clever but he also is haunted by a situation from his past – which led to him leaving law enforcement, but also seems to have him pulled back in as an interrogator.  He can be a risk taker and this added that element of suspense when Harry placed himself in situations in his search for the truth.
Two more characters who really grabbed my attention are MK – a nurse and Harry's "neighbour".  She is upfront, fiesty and a you-get-what-you-see kind of woman!  Not one to mess with, I was instantly drawn to her character and adored her no nonsense attitude! Trooper Ed Cirba was also a great character.  There was fantastic banter between Harry and Ed which made this duo a very likeable and believeable mix.
I enjoyed the varied characters within this story, but it is the type of book that you have to read to really appreciate the qualities of each.  There were many more I want to mention, but I don't want to take the enjoyment of discovery away from anyone who reads this book.  I adored the American setting and atmosphere which was riddled with suspense and intrigue throughout.  As the story unfolds and the pieces of the puzzle are finally put it place, my heart was racing in the run up to catching the killer.  I am not going to give away any spoilers, but I have to say, the red herrings really did throw me as I was sure I had the case solved before all was revealed….I didn't!
Would I recommend this book?  Well that, my book-loving friends is a definitive HELL YEAH. If you enjoy a great setting, intriguing story-line, quirky characters that will leave you guessing through out…you will love this book!  This is now an author and a new series, I will be keeping my eye on for sure!
If my review has your curiosity piqued, grab a copy via the link below: