Oooooooooh!  I was over-the-moon to be approached the lovely Rachel Kennedy from Midas PR to share an #Exclusive cover reveal!  I even have a few words from the author….how exciting!
So #bookjunkies….do you want to see what I have to share?
The book sounds like one that will appeal to a lot of you…..am I being a bit of a tease!? Shall we just do this?
Feast your eyes on…….
Where in the Dark by Karen Millie-James!!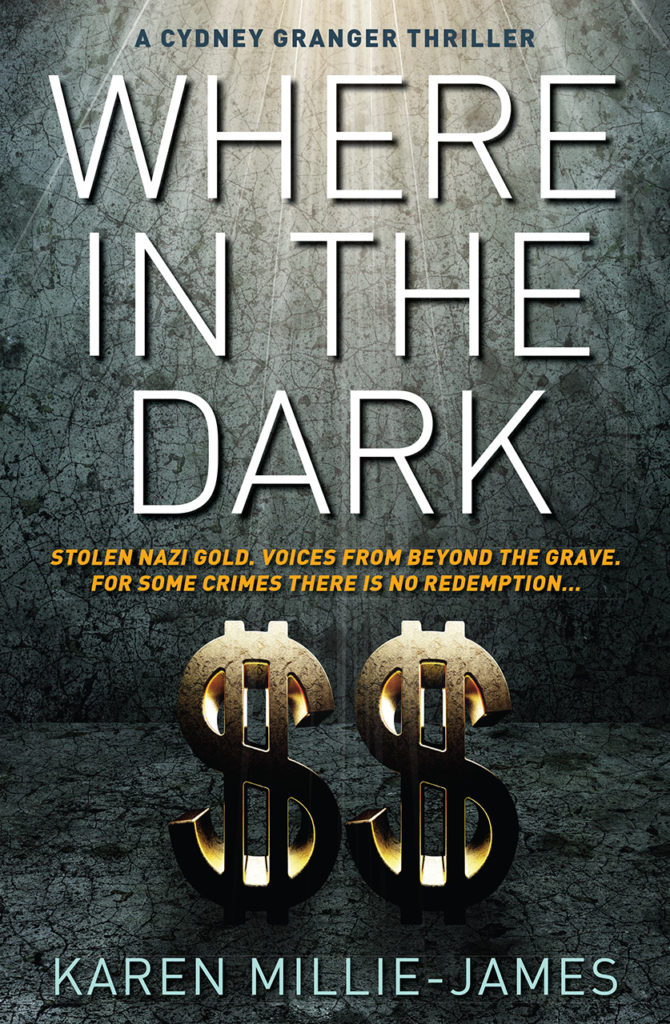 ABOUT THE BOOK
Stolen Nazi Gold. Voices from beyond the grave. For some crimes, there is no redemption…
Two bearer bonds each worth one million pounds arrive at the homes of two Holocaust survivors, with no clues as to their origin. Fearing their lives are once again in danger, they enlist the help of Corporate Forensic Investigator, Cydney Granger, to track down the bonds' origins and bring the demons of their past to justice.
Along with her top team of investigators at Granger Associates, Cydney enters the secretive world of international banking to uncover a web of corruption, blackmail, murder and stolen Nazi treasures. With a little help from beyond the grave, Cydney's investigation will bring her face to face with an escaped Nazi criminal living under an assumed name whose son is running for the US presidency, and an insidious conspiracy with the power to destroy one of America's oldest banking dynasties.
Meanwhile, Cydney is plagued with doubts over the unexplained death of her husband, Captain Steve Granger, in Afghanistan five years earlier. Although she finds comfort in raising their teenage twins and manages to find love once again, Cydney struggles to move on from the ghost of her own past. Together with her trusted protector, Sergeant Sean O'Connell, they seek to discover the truth behind Steve's disappearance, no matter the cost.
Based on the author's own family history, this enthralling thriller explores the dark secrets of stolen Nazi gold and the hunt for justice and redemption.
ABOUT THE AUTHOR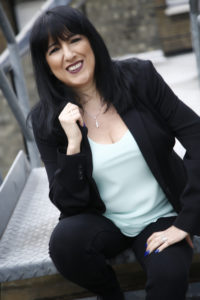 Karen Millie-James was born in North London to a father who escaped Nazi Germany with the Kindertransport in 1939. She studied business and languages at the University of Westminster, and founded her own international business consultancy in 1993. She is widely recognised as an expert in the world of business which has inspired the life and work of her main character, Cydney Granger. Karen now lives in Buckinghamshire with her husband and their three dogs. Where In the Dark is her second novel, her debut The Shadow Behind Her Smile was published in March 2016. Connect with Karen on her website http://www.karenmilliejames.com/ , via Twitter at @KMillieJames and on Facebook.
A Few Words From The Author on Her Inspiration….
I'm so happy to share for the first time the cover of my new novel Where In The Dark, out in September. This is a very personal story for me in many ways, so I hope you will all enjoy it. The plot revolves around the tragedies and injustices of the Holocaust, something my family was personally touched by. My father escaped Nazi Germany as a child on one of the first Kindertransports and my grandparents were murdered in concentration camps. It was research into my family's own history that sparked my desire to write a story that explored the mysteries of stolen Jewish gold, Nazi conspiracies and the hunt for justice and redemption.
Where In The Dark is the follow up to my debut novel The Shadow Behind Her Smile which came out last year, and follows my heroine Cydney Granger as she hunts down a ruthless ex-Nazi, all the while trying to unravel the truth behind the unexplained disappearance of her husband. If someone asked me to describe the book in a few words I would say it's exciting, thought-provoking, unique, compelling and a mix of John Grisham meets The Sixth Sense. The book is part of a series, but it definitely works as a standalone too, so I hope you'll all be picking up a copy!
Huge thanks to Karen and Rachel for asking me to be a part of the reveal!  Keep your eyes out for this book when it is published in Sept 2017!