OMFG!!!  There are only SIX more sleeps until THE best crime festival hits the UK!  Yes, #bookjunkies, I am talking Theakston's Old Peculier Crime Festival in Harrogate!  I am SOOOOOO excited to be going again this year and cannot wait to meet up with my crime-loving friends/fellow bloggers as well as dusting off the old binoculars for some proper #AuthorStalking – be afraid lovely authors…be very afraid!
Press Release: Crime Wave Heads to Harrogate
It's the biggest celebration of the crime genre in the world. The Theakston Old Peculier Crime Writing Festival begins on Thursday 20 July featuring a veritable Who's Who of crime authors. The Festival runs until Sunday at the Old Swan Hotel.
Special Guests include Dennis Lehane, Lee Child, Ian Rankin, Peter May, Stuart MacBride, Joseph Finder, Arne Dahl, Kathy Reichs, Brenda Blethyn, Robson Green and James Runcie. There'll also be a special one-off event with comedian Sarah Millican with authors Mark Billingham, Lee Child and Val McDermid.
Organisers, Harrogate International Festivals, say the crime wave has taken over the town, with around 30% occupancy in affiliated hotels, including 100% occupancy at the Festival venue, the Old Swan Hotel.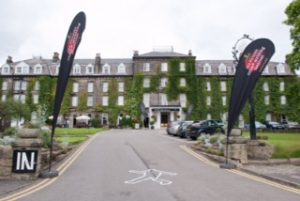 Hotels bracing themselves for the crime spree include The Crown, Hotel du Vin and West Park.
Victoria Ibbertson, Literature Festivals Manager, said: "Over 1,200 bed nights have already been taken and we're expecting to see at least another 15% increase in hotel bookings from the hotels not affiliated with the Festival. It is a major event for Harrogate, now in its 15th year. We are very proud of the fact it takes the Harrogate brand as a boutique book lover's destination across the world. Most of the attendees are from London, across the UK and as far afield as the USA, Scandinavia and Australia. Last year there were over 12 million views of online press alone featuring our Festival, and we're expecting similar impact for 2017."
2017 saw a new media partnership with the Mail on Sunday for the Theakston Old Peculier Crime Writing Festival's renowned Crime Novel of the Year Awards, which will be announced on Thursday evening (20 July) by broadcaster, Mark Lawson. The event will welcome major media outlets this year too, with filming from Apple Books and Sky, alongside a documentary on author Lee Child for the BBC.
Richard Spencer, CEO of Visit Harrogate, said: "The Theakston Old Peculier Crime Writing Festival has built an astounding reputation. It's an important event for the tourism economy – for hoteliers, restaurants and retailers – creating significant impact and revenue. What's more, it cements Harrogate's enviable position as a boutique festival destination, securing its rightful place on the literary map."
Audiences are invited to attend an exclusive exhibition on Agatha Christie. The exhibition opens Thursday 20 July, from 9am, and will be on view in the gardens of the Swan Hotel throughout the weekend.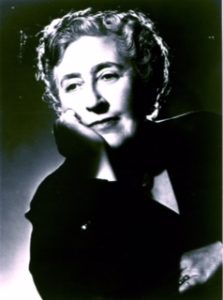 Photo is by Angus McBean courtesy of the Agatha Christie Archive Trust.
Victoria added: "We'd love it for people to come along to the grounds of the Old Swan Hotel, even if they don't have tickets to a panel event, this is a free exhibition that is a world-premiere and major coup for Harrogate. And who knows you'll probably bump into a few famous authors along the way!"
The exhibition will explore connections between Christie's writing, life and publishing career using rare photographs and documents from both the Agatha Christie and Collins archives in a visually led outdoor display. It is part of HarperCollins' 200th anniversary, and will preview in Harrogate before being housed in a permanent exhibition in Christie's former home, now owned by the National Trust in Devon.
From Harper Collins' PRESS RELEASE:
"SECRET HISTORY" OF AGATHA CHRISTIE REVEALED IN NEW EXHIBITION London, 13 July 2017: Rarely seen letters between Agatha Christie and her long-standing publisher are at the centre of a new exhibition about the Queen of Crime's life and career, part of HarperCollins' ongoing celebrations of 200 years of publishing. The letters see Christie and William 'Billy' Collins, former chairman and publisher of Collins, discussing jacket designs, plots and publishing schedules, and show the human side of a business relationship that lasted 50 years, until the author's death in 1976, aged 85. Christie is still published by Collins, and the company holds thousands of books, photographs, art work and correspondence in its Glasgow archive relating to the writers and books it has published, including material relating to Christie's long career. Many of these items are featured in the exhibition, including candid photographs and often touching letters between Christie and Billy Collins that demonstrate their friendship and cover subjects such as first nights, publishing parties and the difficulty of obtaining tennis balls during the war. Also included is the heart-felt memorial address Collins delivered at his friend and long-standing author's funeral; Collins himself died later the same year. James Prichard, Christie's great-grandson and executive chairman of Agatha Christie Ltd, said: "This exhibition offers a glimpse behind the public and professional image of Agatha Christie as a one-woman writing empire. She liked and respected her publisher, Billy Collins, and in time they became great friends. That relationship lasted till the end of her life and, in a way, carries on to this day, as we continue to work with the same publisher." David Brawn, estates publisher at HarperCollins, said: "It's incredible to think that HarperCollins and Agatha Christie first worked together in 1926 – this is a publishing partnership that has lasted over 90 years. Christie is outsold only by the Bible and Shakespeare, and her fan base continues to grow, as does readers' curiosity about a writer who came to define a genre. We have dipped into our archive to help create this fascinating secret history of Agatha Christie, which cannot fail to arrest the attention of crime fans." The exhibition will be on display at the Theakston Old Peculier Crime Writing Festival in Harrogate from 20th to 23rd July, before taking up permanent residence at Greenway, Agatha Christie's former home in Devon, now a National Trust property.
Simon Theakston, Executive Director of T&R Theakstons and title sponsor, said: "2017 promises a remarkable Festival as we mark 30 years of Rebus with Ian Rankin, 20 years since Lee Child introduced us to Jack Reacher, and 15 years since Dennis Lehane released Shutter Island. I can think of no better place than our Festival – amongst readers, authors, and friends – to raise a glass of Theakston's beer to these giants of the genre."
Eeeeeeek!  It does not get any better than this, peeps!  If you are going and you see me, please be sure to come and say hello!!  I love meeting new people to chat about #AllTheBooks!