Today my 'lil star guest reviewer Claire Knight is hosting J.F. Kirwan's 66 Metres blog tour with a cracking review.  Described as a chilling thriller that will keep you on the edge of your seat, this is the first book in the Nadia Laksheva Spy Thriller Series.  It was published by Carina in 2016.  So let's check out a bit about the author and this fab spy thriller first!
ABOUT THE AUTHOR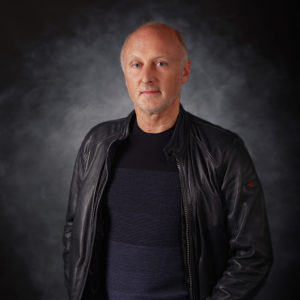 In his day job, J. F. Kirwan travels worldwide, working on aviation safety. He lives in Paris, where he first joined a fiction class – and became hooked! So when a back injury stopped him scuba diving for two years, he wrote a thriller about a young Russian woman, Nadia, where a lot of the action occurred in dangerously deep waters. It was the only way he could carry on diving! But as the story and characters grew, he realised it was not one book, but three… J. F. Kirwan would love to hear from readers, you can follow him on Twitter at: @kirwanjf.
Facebook: https://www.facebook.com/66metres/
Twitter: @kirwanjf
Goodreads Author Page:https://www.goodreads.com/author/show/15643489.J_F_Kirwan
Blog: http://jfkirwan.blogspot.fr
ABOUT THE BOOK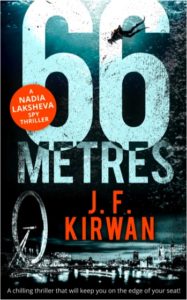 The only thing worth killing for is family.
Everyone said she had her father's eyes. A killer's eyes. Nadia knew that on the bitterly cold streets of Moscow, she could never escape her past – but in just a few days, she would finally be free.
Bound to work for Kadinsky for five years, she has just one last mission to complete. Yet when she is instructed to capture The Rose, a military weapon shrouded in secrecy, Nadia finds herself trapped in a deadly game of global espionage.
And the only man she can trust is the one sent to spy on her…
Claire's Rating:  4/5
Claire's Review
I wouldn't say a spy thriller would be top of my list of choices to read but I'm gradually coming round to this sub-genre, having read Rob Sinclair's Enemy and James Ryker series. So when I was asked to read 66 Metres, I was interested to explore another spy story.
The characters in 66 Metres are larger than life but it's not at the detriment of the book. I think that this adds to the complex tale that the author has woven across a number of locations, the main of which is the Scilly Islands which I must admit I don't know too much about.
I really liked Nadia even though she's kind of the baddie in all of this. She's a strong woman, not to be messed with but she's a woman of principle. She's made a promise to her mother and she's sticking to it, no matter what. And that sisterly bond she has with Katya; Nadia will do anything for her little sister!
Oh and Jake ? I got this hunky surfer dude type image in my head, a bit weathered from his time in the deep depths but in a rugged kind of way!!
The author's writing is fast paced – you hit the ground running, or should I say the Thames diving?! When you read the book you'll see what I mean! I couldn't wait to find out what was going to happen next, who would get the Rose!? Would Nadia and Katya be released from Kadinsky's hold?
I thought I would enjoy this book when I started it but I was surprised by how much as I read through to the end. The climax at the end seemed to just keep giving. I'll definitely be reading 37 Hours and the forthcoming 88˚ North.
Many thanks to J F Kirwan and Thick As Thieves Publicity & Promo Services for my e-copy of 66 Metres and thank you Noelle for letting me host the #Crimebookjunkie stop on the blog tour. I look forward to seeing what's ahead for Nadia!
Wow! Great review, Claire!  If you want to "dive" right into this spy thriller, click the wee book below!