Eeeeeeeek! I am ever so excited for my wee star guest reviewer,
Claire

Knight

, as she is hosting

Orenda's

EPIC blog tour for

Gunnar Staalesen's

Wolves in the Dark blog tour today!  Take it away, 'lil star….
About The Book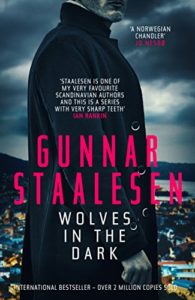 Reeling from the death of his great love, Karin, Varg Veum's life has descended into a self-destructive spiral of alcohol, lust, grief and blackouts. When traces of child pornography are found on his computer, he's accused of being part of a paedophile ring and thrown into a prison cell. There, he struggles to sift through his past to work out who is responsible for planting the material … and who is seeking the ultimate revenge. When a chance to escape presents itself, Varg finds himself on the run in his hometown of Bergen. With the clock ticking and the police on his tail, Varg takes on his hardest – and most personal – case yet. Chilling, shocking and exceptionally gripping, Wolves in the Dark reaffirms Gunnar Staalesen as one of the world's foremost thriller writers.
Claire's Rating: 4/5 
⭐️⭐️⭐️⭐️
Claire's Review:
Wolves in The Dark is a who's who of the people that private investigator Varg Veum has peed off in his period of darkness after he lost the love of his life. Veum has to work through his very clouded (aka drunk) memory about who he was engaged by and what was the case he was investigating. By doing this, he's opening old wounds, ripping off some very old plasters with limited knowledge to start with. But as he picks and rips, he gets flashbacks which shine a brief light on the web of secrets his memory is hiding. How much this will help him find the vindictive soul who has set him up in what is frankly an awful situation, only following the clues and flashbacks will tell him. The person/people are truly wolves in the dark of Veum's memory.
This tale kept me guessing all the way through – I really had no idea who had set Veum up. Even with the suspects laid bare in front of me on the page, Staalesen kept me in the dark as to what was the real truth. The plotted history of Veum's investigations that I read was varied and in his drunken state, he never did solve the case in hand – does he in sobriety?
I really like Staalesen's writing, I don't know if it's because of his own personal style or he writes in a Scandinavian/Nordic style, but it's very different to my normal read of more anglicised authors. My normal skim-reading style goes out the window and I slow right down. I seem to do this for most translated crime and weirdly Agatha Christie's novels but that is beside the point. This is the second Veum novel I've read; somewhere buried on my kindle is We Shall Inherit The Wind – I need to get this read!
I have to say, I love the cover to this book. The pink really stands out against the dark background – simple yet dark!
A big thank you to Karen Sullivan and Anne Cater of Orenda Books for my copy of Wolves in the Dark and for inviting me to take part in the blog tour. As always, big #BusterBear thanks to Noelle for letting me host!
You're welcome, Claire!  Thanks for your awesome review!  I must read this series!  To get this beauty onto your TBR, just click the wee book below!