Today my fantabulous guest reviewer, Claire Knight, is sharing her thoughts on Kerry Wilkinson's TWO SISTERS!  Enjoy! 
ABOUT THE BOOK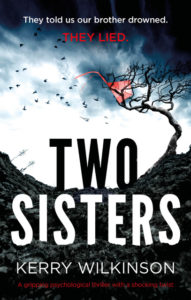 They told us he had been missing for nearly two days, that he probably drowned. They told us a lie.
Megan was ten years old when her older brother, Zac, went missing among the cliffs, caves and beaches that surround the small seaside town of Whitecliff.
A decade later and a car crash has claimed the lives of her parents.
Megan and her younger sister Chloe return to Whitecliff one summer for the first time since their brother's disappearance. Megan says it's to get her parents' affairs in order. There are boxes to pack, junk to clear, a rundown cottage to sell. But that's not the real reason.
Megan has come to confront her family's past after receiving a postcard on the day of her parents' funeral. It had a photograph of Whitecliff on the front and a single letter on the back.
'Z' is all it read.
Z for Zac.
A totally gripping psychological thriller that will have fans of Louise Jensen, Sue Fortin and The Silent Child absolutely hooked.
ABOUT THE AUTHOR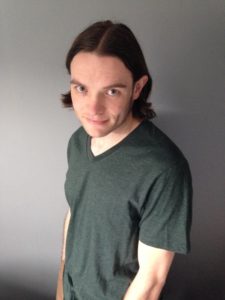 Kerry Wilkinson is from the English county of Somerset but has spent far too long living in the north. It's there that he's picked up possibly made-up regional words like 'barm' and 'ginnel'. He pretends to know what they mean.
He's also been busy since turning thirty: his Jessica Daniel crime series has sold more than a million copies in the UK; he has written a fantasy-adventure trilogy for young adults; a second crime series featuring private investigator Andrew Hunter and the standalone thriller, Down Among The Dead Men.
Claire's Rating: 4/5
⭐️⭐️⭐️⭐️
Claire's Review:
I've been meaning to pick up a Kerry Wilkinson novel for a while now as I'd heard some very good things about the Jessica Daniels stories, but other books seemed to have jumped in front of them instead. So when I heard he was branching out and writing a psychological thriller style novel, my interest was piqued.
Megan is an unusual character – she's got a number of issues, starting with her relationship with food. Personally I'd call it unhealthy but then again people might suggest my relationship with food is unhealthy. It's not explicit from the story but I did wonder if this was triggered by her parents' unexpected death. As for finding out what happened to her older brother all those years ago, she's like a dog with a bone, interrogating anyone who shows a vague acknowledgement of his disappearance within this close knit seaside community.
There is a definite build to the story; it starts at a relative sedate pace but as Megan asks more questions and tries desperately to dig up the past, it gathers pace.
Kerry Wilkinson has a great writing style, I was there in Whitecliffe with Megan and Chloe enjoying the summer sun. I am kicking myself for not having read the author's previous novels despite seeing they attracted great reviews. I am really looking forward to meeting Jessica Daniels and Andrew Hunter and to reading the next psychological thriller The Girl Who Came Back due out later this year.
Many thanks to Bookouture and Netgallety for my copy of Two Sisters and to Kim Nash of Bookouture for asking me to join the blog tour. I also can't forget to thank Noelle for letting me host the #Crimebookjunkie stop for the blog tour. Kerry Wilkinson – you've got yourself a new fan!
Woohoo!  A #NewAuthor for Claire bear!  Great review…you've sold me and I am off to grab a copy for my TBR!  If Claire's review has grabbed your attention, just click the link below!