*Happy Publication Day* Mark Edwards!
Thrilled that my 'lil star guest reviewer Claire Knight is hosting Mark Edwards' The Lucky Ones blog tour today!  Claire is a HUGE fan of this authors work and was so excited when asked to take part in the tour.  So without further ado….what did you think, Claire?
About The Author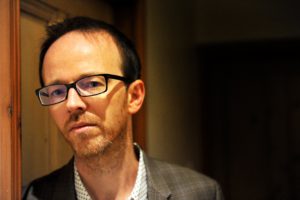 Mark Edwards writes psychological thrillers in which terrifying things happen to ordinary people. He is inspired by writers such as Stephen King, Ira Levin, Ruth Rendell and Linwood Barclay.
His first solo novel, The Magpies (2013), reached the No.1 spot on the Amazon UK Kindle bestseller list, as did his third novel Because She Loves Me (2014), and Follow Me Home (2015). His last novel, The Devil's Work (2016), was also published to great critical acclaim and commercial success. He has also co-written various crime novels with Louise Voss such as Killing Cupid (2011) and The Blissfully Dead (2015). His titles with Amazon Publishing have reached over a million readers.
Mark grew up on the south coast of England and starting writing in his twenties while working in a number of dead-end jobs. He lived in Tokyo for a year before returning to the UK and starting a career in marketing, and is a great admirer of Japanese writers and horror films. Mark lives in the West Midlands, England, with his wife, their three children and a ginger cat.
About The Book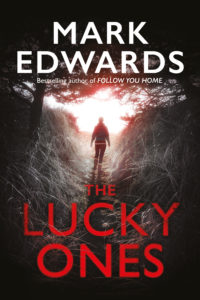 When a woman's body is found in the grounds of a ruined priory, Detective Imogen Evans realises she is dealing with a serial killer – a killer of both men and women, whose victims appear to die in a state of bliss, eyes open, smiles forever frozen on their faces. Imogen is under intense pressure from all sides as she desperately tries to discern not only the killer's identity but also their motive, before it's too late.
A few miles away, single dad Ben Hofland is back living in the sleepy village where he grew up, his career and marriage in tatters. But Ben feels his fortunes might finally be on the up as he miraculously finds the job of his dreams. What's more, the bullies who have been terrorising his son, Ollie, disappear overnight. For the first time in months, Ben feels lucky. But he is unware that someone is watching him and his family. Someone who wants nothing but happiness for Ben. Happiness… and death.
Set near the author's home, in Shropshire – 'the nearest earthly approach to paradise' as PG Wodehouse described it – Mark Edwards' new novel explores our ideas about sense of place, of dark events in idyllic locations, and touches on issues of online safety, grooming and bullying.
Claire's Rating: 5/5
Claire's Review: 
I have loved Mark Edwards' writing since I read the very twisted The Magpies when it first came out back in 2013. I love the books he writes solo and with the talented Louise Voss. No I've not read them all #badfan and I am aiming to rectify that but the ones I have read, I've loved (did I say that already?)
The Lucky Ones has a slightly different feel to it compared to Mark's other solo offerings. There is a bit of a mix between the dark psychological thrillers he writes and the police procedurals he writes with Ms Voss. I am definitely not complaining at this – it was a little of a surprise but definitely a good one. I thought the two writing styles merged seamlessly in this thriller that kept my attention throughout.
As with the author's other works, I would quite happily devour the whole 380 pages in one go if I'd been allowed but unfortunately family life has other ideas. But the author's writing totally transports me to the location – he's definitely done his research as I felt I was there in Shropshire with the beautiful auburn haired Imogen Evans trying to track down this psychopath and with Ben as he tries to find normality with his stroppy son and estranged wife. It is difficult to talk too much about this book without giving too much away about the whys and the hows but put it this way, it kept me guessing all the way through!
I would be interested to see if Mr Edwards takes this as the start of a series – I love his Patrick Lennon series that he writes with his partner in crime so I think this has potential to go further – I really liked Imogen Evans as a detective and I'd like to see more of her.
Huge thanks to Lisa Shakespeare at Midas PR for tempting me with The Lucky Ones – I was trying so hard to wait for publication but you broke my resolve but no regrets – I loved it!! And as always a massive thank you to Noelle for letting me host the #TheLuckyOnes blog tour on the book's publication day!
Awwww, I love it when my wee star is excited!!  Great review, Claire! Click the book below to grab yourself a copy of what sounds to be an awesome read! …..I did!