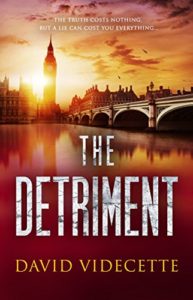 Synopsis:
"The truth costs nothing, but a lie can cost you everything…"
June 2007: a barbaric nail bomb is planted outside a London nightclub, a spy is found dead in his garden, and a blazing Jeep is driven into Glasgow airport. Three events bound by an earth-shattering connection that should have remained buried forever.
From the author of 'The Theseus Paradox', the smash-hit 7/7 thriller based on true events, comes the sequel about a real-life mystery that threatens to destroy a nation. Detective Inspector Jake Flannagan must uncover how a series of astonishing events are inextricably linked, before the past closes in on him.
We all have secrets we say we'll never tell…
My Rating: 4/5
⭐️⭐️⭐️⭐️
My Review:
Eeeeeek!  When I was offered an ARC of The Detriment, I jumped at the chance as The Theseus Paradox is high up the list of my favourite reads.  You can read my review HERE. I was thrilled to hear that the enigma that is Jake Flannagan was back to tell another story and once again, the author did not disappoint.
Set in London, the reader is faced with acts of terrorism/extremism; PTSD; shocking revelations; fear; secrets; guilt and facing the past while fearing failure.  Emotions run high in this sequel to The Theseus Paradox and readers had better buckle up as David Videcette holds nothing back!
The story moves along fairly quickly, weaving various threads throughout.  I didn't find this book to be as fast-paced as The Theseus Paradox and rightly so, as the complexity of the plot meant that it had to be told in a particular way so the reader could eventually see how everything linked together without getting confused.  However, don't be fooled into thinking you will not be racing through the pages…because you will…and you'll LOVE it!
I was pleasantly surprised to see that this book spent a good amount of time working on the character development. We learn some things in The Theseus Paradox, but The Detriment delves further and really gives the reader what they want to know about how the characters came to be who they are!  DI Jake Flannagan ….*swoon* …yes…another #FictionalCrush of mine!  What can I say – I fall for damaged but interesting characters! ? We see a whole different side to Jake in my opinion and it is one that I welcomed with open arms! As ever, Jake is not one to follow policy to the letter and it makes you wonder whether he is a hero, or just plain dangerous.  Either way…I'll take him!  I am not going to give any spoilers away, but I will say that it was good to finally find out why Jake behaves the way he does – it brought out a realism and human side to him that perhaps wasn't so obvious before.  Hurrah!
DI Mark Castle – arrgghhh….THIS guy infuriated me! The conflict and tension between Castle and Flannagan was so thick, I had to wade through it everytime I turned the page!  Brilliantly written but I kind of felt like there was more that just remained "unsaid" ?
OMFG – Claire!  She is back – for those of you who read The Theseus Paradox, Claire and Jake are in an off/on relationship – that's no spoiler…any woman Jake meets can be classed this way! ? We learn ALOT about Claire in this book and I wasn't sure what to make of her.  She can be just as reckless as Jake and I often wondered whether they were good together or a disaster waiting to happen.  I really have a lot of OMFG's I want to throw out there…but I won't… the book says it all! But OMFG!!
Lenny was a character I loved – so loyal to Jake and constantly in protective mode, this pair of police officer's just bounce off each other brilliantly! Lenny is desperate to keep Jake out of self-destruct-mode and his detrmination is heart-warming.  The banter they share had me laughing throughout – they really were like "Sherlock & Watson" – but don't call Lenny "Watson"!  ?
There were many more characters to keep the reader hooked, but I only touched on a few who really made an impact on me.  This book was full of action, twists and a riveting story-line that really will make you scream at times.  The only thing I would say is that everything sort of tied itself up quickly and I got slightly lost in trying to connect the final pieces of the puzzle together…but that's just my experience.
Would I recommend this read?  Hell Yeah I would.  It is easily read as a stand-alone, but I loved the first book so much, I think the reader would be letting themselves down if they didn't read The Theseus Paradox first!  I can't wait to see what happens to DI Jake Flannagan next!
Grab a copy of this fantatsic read by click the book below!