Woohoo!  I am heading up to Leeds today to see my 'lil star guest reviewer, Claire Knight and my #BBFF Sarah Hardy of ByTheLetterBookReviews ? So while I am making my journey, why don't you have a read of Claire's AWESOME review!  Thanks to Sarah and Bloodhound Books for asking Claire to host today!
ABOUT THE AUTHOR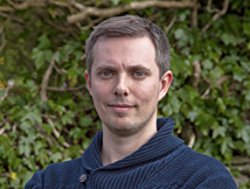 Rob is the author of the critically acclaimed and bestselling Enemy series of espionage thrillers featuring embattled agent Carl Logan, with over 250,000 copies sold to date. The Enemy series has received widespread critical acclaim with many reviewers and readers having likened Rob's work to authors at the very top of the genre, including Lee Child and Vince Flynn.
​
Rob's fourth book, the pulsating psychological thriller Dark Fragments, released by Bloodhound Books in November 2016, has been described as 'clever' and 'chilling' and an 'expertly crafted' story, and became an Amazon UK top 50 bestseller soon after its release.
​
Rob's James Ryker series follows on from the Enemy books, with the first novel, The Red Cobra, being released in April 2017 and quickly becoming an Amazon bestseller in the UK, US and Canada. The second book in the series, The Black Hornet will be released June 12th.
​
Rob began writing in 2009 following a promise to his wife, an avid reader, that he could pen a 'can't put down' thriller. He worked for nearly 13 years for a global accounting firm after graduating from The University of Nottingham in 2002, specialising in forensic fraud investigations at both national and international levels. Rob now writes full time.
Originally from the North East of England, Rob has lived and worked in a number of fast paced cities, including New York, and is now settled in the West Midlands with his wife and young sons.
ABOUT THE BOOK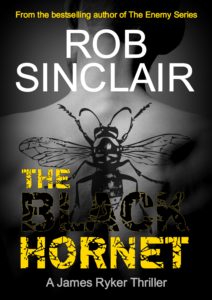 What do you do when the love of your life vanishes without a trace? If you're ex-intelligence agent James Ryker you search for the answers whatever the cost, however much blood and sacrifice it takes…
Six months ago Lisa was taken from Ryker, and he'll stop at nothing to find out who is responsible and why. Following a trail to Mexico, the ex-Joint Intelligence Agency asset soon finds himself in the firing line of enemies he long thought he'd left behind. Set-up for the murder of a former informant, Ryker is thrown into a crumbling jail run by The Black Hornet, the notorious leader of a Mexican drug cartel. But what connects the cartel to the informant's murder, and to Lisa's disappearance? And just who is the mystery American claiming he can help Ryker in his hour of need?
The Black Hornet is the second book in the bestselling James Ryker series. Part Bourne, part Reacher, it's an explosive and action-packed thriller to rival any other.
Claire's Rating: 4/5
Claire's Review:
James Ryker is back and he's a man on a mission and is not letting anything stand in his way…that is until he is set up for a crime he didn't commit – unfortunately he didn't promptly escape from the maximum security stockade…he was sent to a dirty horrible cartel run prison in deepest darkest Mexico. He's got himself into a right pickle this time!!
I didn't find this outing of Logan..I mean Ryker as fast paced as The Red Cobra. I think because Ryker spent what felt like a considerable time in the Mexican hell hole, it didn't feel as action packed as Mr Sinclair's previous novels. Don't get me wrong, I did enjoy the story but there wasn't enough of Ryker doing what he is best at – anyone who has read my reviews of The Enemy Series and The Red Cobra might get the impression I have a wee crush on Mr Ryker and they'd be right. I love Ryker playing his role as an ex-super secret James Bond, fighting the bad guys, chasing them around the exotic sedate (well sometimes) locations.
The Black Hornet has more of a focus on other characters like Ashford and Vasquez which is needed to build the story and I was kept guessing throughout – how was Ryker going to escape? Is Willoughby who she says she is? Who is El Americano?!?! I really was bamboozled!!
Many thanks to Bloodhound Books for my copy of The Black Hornet and to Sarah Hardy for asking me to take part in the blog tour. And I can't not thank Ms Holten for letting me host the #Crimebookjunkie stop. Now come on Mr Sinclair, I need part 3!!!!
You heard the lady, Mr Sinclair! ? Sounds like another awesome read and a series I need to get my hands on too! …..adding to the TBR as I type! #MyBad ? Grab a copy of this book via the link below!