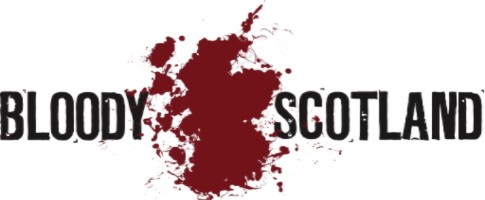 ? PRESS RELEASE ?
Woohoo!  Dead excited to share some news with you all!  I am really looking forward to Bloody Scotland this year and for those of you on the fence….this may change your mind!  
Bloody Scotland International Crime Writing Festival 8-10 September 2017
Bloody Scotland is Scotland's International Crime Writing Festival, providing a showcase for the best crime writing from Scotland and the world, unique in that it was set up by a group of Scottish crime writers in 2012. The festival uses a number of atmospheric, historic venues in Stirling's Old Town setting it apart from other literary festivals. Full information at www.bloodyscotland.com
BLOODY SCOTLAND ON TRACK FOR BEST YEAR YET IN TERMS OF TICKET SALES

Proof that a bloody good programme results in bloody good sales
At the end of June, one month after the programme was launched, Bloody Scotland reveals ticket sales are up 50% on this time last year
Ann Cleeves & Douglas Henshall look to sell out the 700 seater Albert Halls
Ian Rankin and Val McDermid, both celebrating their 30th Anniversaries this year, are close behind.
The ever popular 'Crime at the Coo' cabaret night sold out on the same day tickets went on sale so anyone wanting some musical fun should come to the Friday night crime quiz, Never Mind the Buzzcops, which this year will be followed by a gig from the Fun Lovin' Criminals aka Doug Johnstone, Mark Billingham, Stuart Neville, Luca Veste and Val McDermid
Tickets to the opening reception at Stirling Castle where we will be celebrating the launch of the Bloody Scotland book and announcing the winner of the McIlvanney Prize 2017 followed by a torchlight procession are selling fast. It's the only event for which press tickets are not automatically available so please buy them if you would like to come along. The price of £20 only covers costs.
FEATURE IDEAS FOR BLOODY SCOTLAND 2017
Singing crime writers. Feature about why so many crime writers are frustrated musicians.
Crime at the Coo has already sold out. Val McDermid, Doug Johnstone, Mark Billingham, Stuart Neville and Luc Veste will be appearing in the band – Fun Lovin' Crime Writers on Friday night and the Slice Girls – a group of female crime writers who don burlesque outfits to perform at crime conventions throughout the world were born at Bloody Scotland a few years ago. Interview Doug Johnstone from the Fun Lovin' Crime Writers or Steph Broadribb from the Slice Girls.
Source event: Never Mind the Buzzcops and Crime at the Coo (page 8 & 17)
The rise of the podcast.
Steve Cavanagh and Luca Veste are the authors behind the mic of the freshest most in your face podcast in crime fiction. They will broadcast their show live and uncensored from Bloody Scotland with guests Ian Rankin, Eva Dolan and Mark Billingham. This month Ann Cleeves and Chris Brookmyre appeared on the Guardian podcast talking about their contributions to the Bloody Scotland book (page 17)
Inspirational Scottish locations.
The new book to be published by Historic Environment Scotland features stories by leading Scottish crime writers set in historic locations. Great stories, great names, great photos of iconic Scottish buildings.
Source event: Building Plots with Louise Welsh, Doug Johnstone & E S Thompson (Page 19)
Police work fact & fiction.
Feature based on crime authors & real world crime fighters. Just how close do their notes/characters compare?
Source event: The Policing Behind Procedurals with Alex Gray (page 9)
On the run in the sun.
From Death on the Nile to CSI Miami there is an enduring appeal in crime set in an idyllic location. Robert Thorogood, creator of BBC's Death in Paradise filmed in the Caribbean, could talk about bringing crime fiction in sun soaked locations to the small screen.
Source event: Watching the Detectives (page 11)
Tale of Two cities
Latter day Sodom & Gomorrah. Two cities (LA and Vegas) that feel more like film sets than real places. Travel/arts feature on the continual lure of these two cities and the inspiration they provide for crime fiction
Source event: From Tinseltown to Sin City: Chris Carter & Mason Cross (page 14)
A Life Less Ordinary.
Born in Brazil, a trained criminal psychologist, toured the world as a professional rock musician and once a part of an all-male exotic dancing group Chris Carter is coming to Stirling and is the author of number one chart topper The Caller his eighth book. Do you need any more angles?
Source event: From Tinseltown to Sin City: Chris Carter (page 14)
Staging the Perfect Crime.
From the Mousetrap, An Inspector Calls to Bloody Scotland's very own stage production featuring Inspector Faro as penned by Alanna Knight long-time supporter and patron of Bloody Scotland. A criminal act – how the stage has played a leading role in the development of crime fiction.
Source event: A Play: Inspector Faro Investigates (page 22)
Eeeeeeek!  I cannot wait!  Roll on September!  I will be featuring my time at Bloody Scotland with a blog post (of course!) and prepare for social media picture overload!!  
Calling All Bloggers! ??
We will be launching a blog tour in August running up to the festival linked to the Bloody Scotland book. If you would like to be involved please let me know
@brownlee_donald @bloodyscotland
And some final news that may convince you to get booking….
A Bloody Scotland book of short stories will be published by HES and launched on the opening night of the festival. Six of the twelve authors featured in the book have been longlisted for this years McIlvanney Prize. Historic Environment Scotland (HES) is the lead public body charged with caring for, protecting and promoting the historic environment.
Lin Anderson, Chris Brookmyre, Ann Cleeves, Val McDermid, Denise Mina, Craig Robertson appear in the Bloody Scotland book and are also longlisted for the McIlvanney Prize 2017. Other authors on the longlist are Helen Fields (Harper Collins), Claire MacLeary (Contraband), Owen Mullen (Bloodhound), Ian Rankin (Orion), Craig Russell (Quercus) and Jay Stringer (Thomas & Mercer)
The judges will be chaired by Programmer of Granite Noir, Lee Randall, comedian and crime fiction fan, Susan Calman and journalist, Craig Sisterson who between them cover three continents. The finalists will be revealed at the beginning of September and the winner kept under wraps until the ceremony itself.
Previous winners are Chris Brookmyre with Black Widow 2016, Craig Russell with The Ghosts of Altona in 2015, Peter May with Entry Island in 2014, Malcolm Mackay with How A Gunman Says Goodbye in 2013 and Charles Cumming with A Foreign Country in 2012.
Do you see why I am so excited?!  That and the fact that I will see all my #BookishFriends, get to do some #AuthorStalking and enjoy the beauty that is Scotland!!  Hope to see you there…and don't be shy…come up and say HELLO! ?