The mystery man has returned from his hiatus and I am pleased to say he has not lost his touch for combining a unique & quirky story with his fab reviews!  So I won't keep you waiting…here's a little about the book and of course Scottydog's review!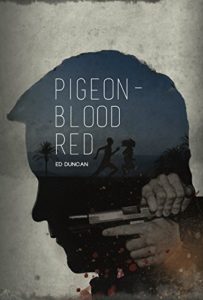 For underworld enforcer Richard "Rico" Sanders, it seemed like an ordinary job. Retrieve his gangster boss's priceless pigeon-blood red ruby necklace and teach the double-dealing cheat who stole it a lesson. A job like a hundred before it. But the chase quickly goes sideways and takes Rico from the mean streets of Chicago to sunny Honolulu, where the hardened hit man finds himself in uncharted territory when a couple of innocent bystanders are accidentally embroiled in the crime.
As Rico pursues his new targets, the hunter and his prey develop an unlikely respect for one another and Rico is faced with a momentous decision: follow his orders to kill the couple whose courage and character have won his admiration, or refuse and endanger the life of the woman he loves?
Scottydog's Rating: 4/5
⭐️⭐️⭐️⭐️
Scottydog's Review:
'HALP' I typed into my Iphone and pressed send.
I knew from sitting next to her at work every day and chatting about, well, just about everything, that she wasn't a lightweight like me who needs a full 8 hours, and that despite it being close to midnight she was probably still up.
'Sup?' came back the almost immediate reply.
I typed, 'Asked her what she wants for Christmas – what the hell is a Pandora stacking ring???'
Reply: 'FFS, you live in cave? LOL. I'll send you a link.' (Smilie face emoji).
And kids, whilst we're on the subject, when I was your age we didn't have emojis – we had to put smilie face stickers on our handwritten letters, like a bunch of SAVAGES. You have no idea how easy you have it today.
So the link was duely sent, and I saw what it was that Mrs Scottydog wanted for Christmas. Two 'stacking rings,' meant to be worn on the same finger or 'stacked,' with the stone on each lightly touching the other. My untrained eye dismissed them as cheap costume jewellery from the Claire's Accessories House of Crap, but my co-worker who kindly sent me the link and actually accompanied me to the Pandora shop in town told me they're all the rage these days. I did balk at handing over eighty quid for said costume jewellery, but Mrs Scottydog wants what Mrs Scottydog wants. And I want an easy life, so Santa brought Pandora stacking rings last year.
I suppose the other way to look at it is that I actually got away lightly. In December 2011 Elizabeth Taylor's complete jewellery collection was auctioned by Christie's. Several ruby-set pieces were included in the sale, notably a ring set with an 8.24 ct gem that broke the 'price-per-carat' record for rubies ($512,925 per carat, i.e. over $4.2 million in total), and a necklace that sold for over $3.7 million. Thankfully for me, Mrs Scottydog is neither an Elizabeth Taylor fan, or able to tell a decent ruby from a red wine gum.
Wikipedia describes a ruby as a 'pink to blood-red gemstone.' Apparently, the red colour is caused mainly by the presence of the element chromium, and its name comes from ruber, Latin for red. The quality of a ruby is determined by its colour, cut, and clarity. All of these properties, together with carat weight, affect the value of a ruby. The brightest and most valuable rubies are called blood-red or "pigeon blood," and they command a large premium over other rubies of similar quality. A bit of Googling turned up the fact that the 'pigeon-blood red' name comes from the red of the ruby being compared to the first 2 drops of blood shed from a freshly killed pigeon.
So it's not often that I have to Google a book's title to fully understand its meaning and reference, but that's what I did when Noelle sent me a copy of Ed Duncan's 'Pigeon-Blood Red.' followed by her usual text telling me that this one is probably 'right up my street.' Thanks, Noelle, you know me too well.
Like the author himself, the protagonist, Paul, is a lawyer, but don't be fooled into thinking that 'Pigeon' is a Grisham-esque legal thriller – it's not. It's an engaging, fast paced gangster thriller, with what is actually a fairly basic storyline. Main character and all round bad guy, Rico, is an underworld enforcer tasked with retrieving his boss's missing ruby necklace, and also tasked with making sure the thief regrets it and won't be doing PE next week. Or the week after, for that matter. Of course, the ruby necklace is a priceless 'Pigeon-Blood Red' variety, and is well worth the risks taken to retrieve it.
So there for me is bonus point number one. Whereas the storyline is fairly basic (gimme back my jewellery or else) the title of the book is simply superb (I love it) and it's nice to see an author adding something new and interesting to what is essentially a common theme in many crime novels. Usually it's the hunt for missing drugs, guns, people etc, but this hunt is for something specific, something which caused me to think a little bit more and to consult The Gospel According to Google.
The hunt for the necklace takes Rico from Chicago to Honolulu, and in a recent author interview Duncan stated that the idea for 'Pigeon-Blood Red' first came to him when he was attending a legal seminar in Honolulu several years ago.
It wasn't the main protagonist who stole the show in this one – it was the baddie, the anti-hero. Be honest, guys, if Luke Skywalker and Darth Vader were both on screen, you wouldn't tak your eyes off the dark Sith lord, woud you? I mean, honestly, who is interested in a whimpy farm boy from Tatooine?
So, Crime Book Junkies, meet Rico, an underworld mob enforcer. He's not an instantly likeable anti-hero like Tom Woods' utterly superb Victor the Assassin. Rico grows on you in such a way that you don't actually like him or end up rooting for him . . . you just kind of develop an understanding of him. You begin to respect certain traits that he has – his intelligence, his analytical problem solving ability, and how he can have a change of heart about something without losing the fact that he is a killer and a very dangerous animal in his default form.
We meet him early on in the book and when we see what he is willing to do to his girlfriend when he mistakenly thinks she might be responsible for the missing necklace, it frankly makes me want to give the guy a good kicking myself (and more fool her for not dumping him and slagging him off on Facebook). Rico develops a begrudging respect for a couple of innocent people (including lawyer, Paul) who become embroiled in the hunt / chase process. The thing is, it's quite clear that despite him having a begrudgung respect for them in this situation, he wouldn't think twice about killing them stone dead in another.
But you know what? I actually like that about Rico, and all the more respect to Duncan for making him that little bit different. CBJ's who read my reviews know I admire an author who isn't afraid to do something that little bit different. Rico isn't the kind of typical anti-hero that you grow to love and root for – far from it. Think about the 'Jax Teller' character, played by Charlie Hunnam, in Kurt Sutter's fantastic TV series, Sons of Anarchy. We all love Jax and his sense of humour, his intelligence, his loyalty to those he loves and how he often does the right thing to protect the underdog, whilst all the time we're ignoring the fact that he's actually a gun dealing, murdering, pyschopathic little shit. But hey, it's amazing what today's pop culture can do to our frazzled minds. We love a hero, but do we have to idolise criminals? It seems we do. How many films have been made which portray the Kray twins as loveable London rogues, instead of the sadistic butchers they actually were?
Rico is a different sort – and this is why I like him, and why I take my hat off to Duncan. Rico is a well formed, engaging literary character who, quite frankly, scares the crap out of me. No, I don't root for him – I don't want to walk down the same road as him, I don't want to be in the same country as him – hell, I don't even want to be friends with him on Facebook.
But I DO want to read about his exploits, and I'm really looking forward to hearing about what he gets up to next. Let's hope that Duncan keeps him going for a bit longer, and maybe even devolps him a bit and gives us a bit of back story into how this guy became the shark that he is.
The protagonists sum up perfectly what I as a reader felt about Rico in their discussion of him in the final chapter:
'Evelyn sensed that he hadn't really fully acquiesced. "Paul, you really shouldn't."
"Shouldn't what?"
"Admire him – even a little."
"Believe me, Evelyn, I don't."
But he did – a little. And she knew it.'
I loved the pace, the engaging storyline, the fact that nothing stayed still too long. Duncan has described himself as 'more of a seat of the pants writer than an outliner,' and I'd say he's hit the nail on the head with that description. 'Pigeon Blood Red' is not a particularly long book as some novels go, but that's fine by me as it adds to this being good, simple entertainment, a damn good read, easily digested over a few days on the beach or by the pool.
So Ed Duncan is another author that I salute. At the time of bringing this review to you, the internet tells me that Ed Duncan is working on number 2 in what is a triology involving hard-man Rico. And I'm only to glad to hear it. My thanks and apologies go out to Ed Duncan – regular readers of CBJ reviews might have noticed my recent hiatus from CBJ due to work and family commitments, and the author has been the perfect patient gentleman after he sent me a copy of 'Pigeon-Blood Red' last year for review. I really liked it, Ed (and I LOVE the title) – keep writing, keep in touch with me via Crime Book Junkie, and I would love to be considered for reviewing the next one if it's anything like this.
Phew!  Did you get all that, #bookjunkies!?  Thrilled to have Scottydog back and my thanks for the informative and funny review! If this sounds like your type of read, click the book below and grab a copy of Ed Duncan's Pigeon Blood Red.