Today on my blog, my guest reviewer – Claire Knight, has a fantastic review of M.A. Comley's IN PLAIN SIGHT. I absolutely loved this book from the Hero series and you can read my review HERE.  

Over to you, 'lil star…..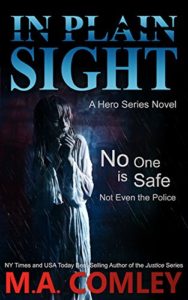 Synopsis
No one is safe… not even the police.
DI Hero Nelson is used to violent crime but this one is personal. When he's called to a crime scene he discovers the victims are two police officers one of whom is a good friend.
Determined to track down the killer, he's dealt another blow as the body count continues to rise. To catch the killer before he strikes again, Hero calls upon the public for help. But when the criminal ups the ante by taking hostages, he soon regrets his actions.
Can Hero and the police catch the murderer before more innocent victims are hurt?
Hero must apprehend a killer who is hiding in plain sight before the time runs out.
Claire's Rating: 5/5
Claire's Review:
Most people have come across Mel Comley's writing through the Justice series but I'm different. It was Hero Nelson (unlike many) who introduced me to Ms Comley's writing so he has a soft spot in my reading heart.
The Hero books are darker and more violent in my humble opinion than the Justice series and the author's other solo crime series featuring DI Sally Parker.
In Plain Sight, similarly to Torn Apart the first in the Hero series, starts in a very shocking violent (there's that word again) way and doesn't stop there. Our perpetrator is one messed up individual toying with the Manchester Police, winding our Hero up at a time when emotions are high. Will the team catch this evil soul before he reeks more havoc?!
I have enjoyed all of the author's books I've read so far, no I've not read them all but all the ones I've read have been addictive. I really haven't wanted to put them down and In Plain Sight was no different. I read it in only a few hours, desperately wanting to keep up with the chase around the suburbs of Manchester.
If you haven't read of the Hero Nelson books before and like your police procedurals dark and fast paced, you can not go wrong with this series. You've only got three to catch up one before the next one is out.
Huge thanks to Mel Comley for kindly sending me an e-copy of In Plain Sight.
Another fantabulous review, Claire!!  And if you are looking for a Hero ….see what I did there? ? ….click the book below and grab a copy of this superb series!