Woohoo!  It's a
#DoubleReview

today on my blog for the #Epic

Sarah Stovell's

Exquisite blog tour!  Here's a bit about the book before Claire and I share our thoughts in our individual reviews!  Make sure to scroll down and catch both our reviews! ?
About The Book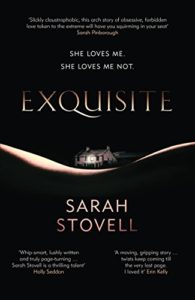 Bo Luxton has it all – a loving family, a beautiful home in the Lake District, and a clutch of bestselling books to her name. Enter Alice Dark, an aspiring writer who is drifting through life, with a series of dead-end jobs and a freeloading boyfriend. When they meet at a writers' retreat, the chemistry is instant, and a sinister relationship develops … Or does it? Breathlessly pacey, taut and terrifying, Exquisite is a startlingly original and unbalancing psychological thriller that will keep you guessing until the very last page.
Claire's Rating: 5/5
⭐️⭐️⭐️⭐️⭐️
Claire's Review:
The cover to this debut from Sarah Stovell is as the title says exquisite – when I saw a screen shot of it some months ago on Twitter, I loved it!! Dark and sensual!! And then I found out it was a psychological thriller and Orenda Books had signed this new author, I knew I had to get my hands on a copy of it!!
The story jumps between someone serving time in a Yorkshire womens' prison and the events leading up to this woman's incarceration – there are limited clues as to who our prisoner is but that is part of this book's charm. You don't know who it is, and for me, I kept switching between my suspects as the story unfolded – both of the leading ladies became unreliable and culpable in my eyes. At one point I thought I knew what was going on, only to be proved wrong by the author's clever writing – she led me up that notorious garden path, blindsiding me as I went. I love that in a book!!
The author's writing style is compelling, I was totally drawn in to Alice and Bo's surroundings and kept there. I found the book an uncomplicated read but it well and truly captured my attention.
Everything about this book is exquisite – the title for it is perfect!! If you love your twisty turny psychological thrillers, Exquisite is definitely one you need to read!
Huge thanks to Orenda Books and Anne Cater for my copy of Exquisite and to Noelle for letting me co-host this blog tour stop. Sarah Stovell is definitely someone to watch if Exquisite is anything to go by.
My Rating: 4/5
⭐️⭐️⭐️⭐️
My Review:
I would first like to thank Anne Cater & the force of nature that is Karen Sullivan of Orenda Books for asking me to take part in this blog tour and for an ARC.
Set in Brighton, Grasmere & the Lake District/Cumbria, the reader becomes embroiled in a tale of obsession, distorted love, passion, sadness, manipulation, lies, desperation and betrayal. My emotions were all over the place with this book!
Definitely not a fast-paced read, but also not your typical crime/psychological thriller! You need to absorb the words, drink them down and feel them to appreciate the impact of this story-line.  This story is told from two different points of view – Bo and Alice.  The concept is not a new one, but how it is wrapped up and presented to the reader – that is what makes it different!  Such an atmospheric read – a warped web of silken words which were lyrical in nature… poetic yet twisted in this utterly disturbing plot.
Now let's talk characters!  Bo Luxton – an author, a mother, a wife.  We get one perspective of the story from this female lead.  Did I connect with her?  Not really, something didn't sit right with me.  I found her odd – but also kind, passionate and giving too .  Her kindness could cost her though….  Be careful Bo….I could probably write a few thousands words on this character alone – but I really don't want to give too much away. #NoSpoilers
The other half of this story is told from Alice Dark's POV. Young, naiive and somewhat vulnerable – Alice wants the reader to see her as a risk taker, exciting but also somewhat sensible. Alice craved something and Bo gave it to her – with her demons of the past, she found inspiration through Bo's teaching and attention. The friendship formed was instant. I didn't actually warm to Alice to much either – but this is because both these strong female leads were so well written!
There were other minor characters which added to the story but really, for me, the real depth and meaning came from Bo and Alice.   I really want to mention one or two others, but think those are best left for the reader to stumble across themselves.
This book was a journey and had the story not had a familiar feel to it, it would have blown me away- the same way that Sarah Pinborough's Behind Her Eyes knocked me for six!  Saying that, this was an extraordinary and beautifully written story that I would recommend to others easily!  I have Sarah Stovell on my reading radar now and look forward to what she writes next!
To grab a copy of this fabulous read, click the wee book below!