Thrilled to share that

J.F. Kirwan's 66 Metres

blog tour starts July 3rd!! Kate Moloney – who is doing a stellar job of organising these tours, has once again gathered an awesome #BandOfThieves together to #ShareTheBookLove!  66 Metres: A chilling thriller that will keep you on the edge of your seat! (Nadia Laksheva Spy Thriller Series, Book 1) was published by Carina in August 2016.  There will be reviews, extracts, guest posts – you name it, to keep you hooked on this tour!

ABOUT THE BOOK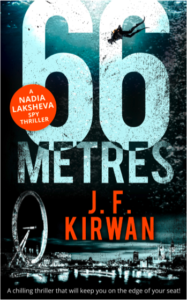 The only thing worth killing for is family.
Everyone said she had her father's eyes. A killer's eyes. Nadia knew that on the bitterly cold streets of Moscow, she could never escape her past – but in just a few days, she would finally be free.
Bound to work for Kadinsky for five years, she has one last mission to complete. Yet when she is instructed to capture The Rose, a military weapon shrouded in secrecy, Nadia finds herself trapped in a deadly game of global espionage.
And the only man she can trust is the one sent to spy on her…
"A masterfully paced action thriller that takes readers to unexplored depths. The first novel in J. F. Kirwan's Nadia Laksheva series introduces a heroine that readers are bound to fall hard for." BestThrillers.com
WOW! Now THIS sounds like an AWESOME read, doesn't it?!  If you are already intrigued, and can't wait for the blog tour – you can pick up a copy of this crime thriller HERE! See you July 3rd, #bookjunkies!!