🎉 Happy Publication Day 🎉
Fabulous review from my 'lil star guest reviewer, Claire Knight, today!  Check out her thoughts on Clare Fisher's ALL THE GOOD THINGS….
Synopsis: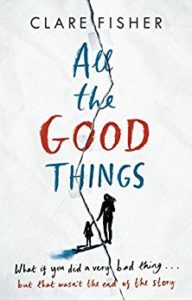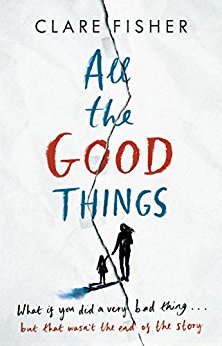 Twenty-one year old Beth is in prison. The thing she did is so bad she doesn't deserve ever to feel good again.
But her counsellor, Erika, won't give up on her. She asks Beth to make a list of all the good things in her life. So Beth starts to write down her story, from sharing silences with Foster Dad No. 1, to flirting in the Odeon on Orange Wednesdays, to the very first time she sniffed her baby's head.
But at the end of her story, Beth must confront the bad thing.
What is the truth hiding behind her crime? And does anyone – even a 100% bad person – deserve a chance to be good?
Claire's Rating: 4/5
Claire's Review:
"there isn't a human in the world who doesn't want love"
What is good in your life? As a population we frequently focus on the negative or bad things in our lives, that person at work who irritates just by turning up, the cold calls about PPI or the accident you never had. I am just as guilty; we don't always look for the good things. That unexpected "thank you" from the boss, when someone tells you their good news and you're one of the first to know, having a coffee and a gossip with a friend – they're not big things but they're good things, the things that make you feel all warm and fuzzy. Bethany is tasked with listing the good things in her life which she views as being a total right off – all part of her therapy and rehabilitation.
Each chapter begins with the title being the good thing and there are many I can identify with – "Friends you can be weird with", "Reading out loud to people who listen" but then again there are two about running – I don't do running for fun, but I get what the author is aiming at. The little pleasures in life.
The book did make me think, not just about the good things in my life but also the age old argument of nature vs nurture. Is Bethany and her "badness", her rebellion as she went from foster home to foster home and beyond a result of her genetic make up or because of her childhood experience. I personally think that we are all a mixture of our genes and our experiences but as we get older, we become more affected by the world around us than when we were children.
I really liked the author's writing. Despite the story jumping around between Bethany's present and past, I was there with our protagonist every step of the way. I was there in the classroom with Bethany alongside her when she challenged Cal, there when she went for her first job at the cinema.
This is a milder book than I'd normally read but there are elements of crime in there and the underlying premise of the book is Bethany's experience in prison and her counsellor's urge to help Bethany see that there is good in her life despite what she's done. And what has she done to feel so down on life – well that would spoil the story and no one likes a spoiler!
This is a cracking debut from Clare Fisher and a refreshing change to see an insight into what happens to rehabilitate prisoners.
Many thanks to Penguin Books (UK), Viking and Netgalley for my advanced copy of All The Good Things.
Another GREAT review, Claire! #IWillNotBeTemptedToAddThisToMyTBR … who am I kidding?! 😂. If Claire has enticed you into reading this book, click the link for a quick trip to amazon….