Awesome review today from Claire Knight as she bagged a stop on James Carol's THE QUIET MAN blog tour! Nice!!  First though, the usual business….
About The Author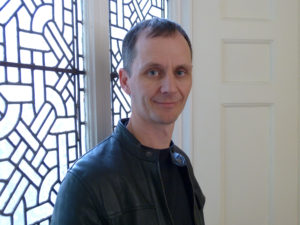 James Carol is the bestselling author of BROKEN DOLLS, the first in a series featuring former FBI profiler Jefferson Winter. The novel was released in the UK in January 2014 to rave reviews and reached number 1 on the Amazon fiction and thriller charts. In addition James is writing a series of eBooks set during Winter's FBI days. PRESUMED GUILTY is the first of these. Under the pseudonym J.S. Carol, he has also written THE KILLING GAME.
About The Book
In Vancouver, the wife of a millionaire is dead following an explosion in her own home.
Everyone thinks her husband is responsible, but former FBI profiler Jefferson Winter isn't so sure. The method is too perfect; the lack of mistakes, uncanny. He's seen a series of carefully orchestrated murders – once a year, on exactly the same day, a woman dies in a situation just like this one.
That date is fast approaching and Winter knows another victim has been selected. Can he identify the quiet man before he strikes again?
Claire's Rating: 4.5/5
Claire's Review:
I'll put this out there right now, this is the first Jefferson Winter book I have read, the fourth in the series but thankfully it most definitely can be read as a stand alone. So if you haven't read any of the Jefferson Winter, why not start with this offering!
Having read and loved the author's stand alone novel last year "The Killing Game", I knew when I started The Quiet Man, I would be in for a treat and it definitely helped that Joanne Robertson over at My Chestnut Reading Tree Book Blog highly recommends the Jefferson Winter books (I trust her opinion!)
Anyway, I hit the ground running as Jefferson is called to help out on a case where one sick individual commits a horrific crime once a year. Talk about a hard case!! And to make it harder, D-Day is tomorrow….
This book is definitely fast paced, Jefferson's downtime is still working the case in his hotel room with Mozart playing in the background. The pressure is on, will he and his PI partner find The Quiet Man before he disappears for another year. If you like your crime thrillers with plenty of action, you will not go wrong with The Quiet Man. Somehow I'm going to have to shoehorn the previous books into my reading pile!!
Massive thanks to Lauren Nicoll of Faber and Faber for my copy of the Quiet Man and for asking #Crimebookjunkie to take part on #TheQuietMan blog tour. And it goes without saying, but I'll say it anyway – thanks to Noelle for letting me host! I've got a new author to catch up on!!
Thanks for the great review, Claire!  Think I have to add this to Mount St TBR!  At .98p – why not!?  You know what to do #bookjunkies…click the book and you'll be at amazon in no time! ?