Absolutely thrilled to be taking part in Andrew Barrett's THE NOTE blog tour today and sharing this stop with my ever-so-awesome guest reviewer, Claire Knight!  My thanks to the author for an ARC which I devoured in less than an hour and a half!  First, let's find out a bit about this short-story/ novella…
ABOUT THE BOOK: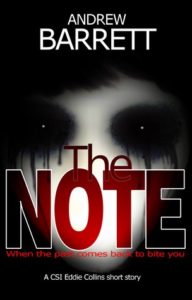 I'm Eddie Collins, a CSI.
Ever had that feeling of being watched but when you turn around no one's there?
I have.
It was raining, and I was working a murder scene around midnight when that prickle ran up my spine. If I'd listened to that feeling, if I'd thought back to my past, maybe I could have prevented the terror that was to come.
Back at the office, I found a death threat on my desk.
I had no idea who sent it or why they wanted to kill me.
But I was about to find out.
Claire's Rating: 4/5
Claire's Review:
"It's hard to dance with a demon on your back."
I'm ashamed to say this is my first encounter with Eddie Collins but I'm pleased to report it will definitely not be my last!
The way Andrew Barrett writes in the first person reminded me of the way Bruce Willis narrates the rather excellent Sin City. It helps that the Note is set totally overnight and has a very noir feel to it all.
I love the nicknames and amusing comments that Eddie comes out with; this shows Mr Barrett's sense of humour, and Eddie is not one to mince his words. Take this as a warning, if Eddie can use a profanity to express himself, he will – don't say I didn't warn you!
There is a lot crammed into this short fast paced crime thriller. I read this in little over an hour (including the od break for my addiction to social media). I didn't realise that I was actually holding my breath as the story climaxed and when I finished I could my heart pounding that little bit harder than normal!
Many thanks to Andrew Barrett for sending me an advanced copy of The Note. I will be getting to know Mr Collins a little better in the near future I hope!
My Rating: 4/5
My Review: 
Set in Leeds, the reader is met with paranoia, fear, abandonment, control, revenge, anger, the fight for survival and a desire for justice….
This novella is a fast-paced read with an interesting story-line. We are thrown into the story from the get go and then hooked.  You have no choice but to carry on!   I loved the fact that it is told from the perspective of the crime scene investigator, rather than the police.
The characters bring the plot to life with their distinctive personalities and Eddie Collins definitely was unique in this bunch.  Bold, brash and doesn't hold back – my favourite part was when he said that anger keeps him sane!  Love it! Eddie has a great sense of humour and his choice of words, well…I just adored him!  Although this is my first introduction to Eddie, I sense we learn a lot about his character following the murder of someone known to him.  I can't say anything more about this without giving a spoiler away- so I won't!
Dibble…well what can I say about this guy?!  A sarcastic, clichéd detective that Collins clearly detests; without having read the previous books in this series, I am not sure if there is a long history between Collins and Dibble but I certainly got the impression that they were not BFF's!
Now for the baddie – first class psychopath, but once you learn more, the reader almost feels sorry for them…almost.  The anger and need for validation boils over with murderous results and a few revelations I did not see coming!
With the pages full of suspense and an intensity that keeps you wanting more, this short story most definitely gets a Hell Yeah recommendation from me! My interest in this series is certainly piqued so I think I will be meeting Eddie Collins again in the future!  If your looking for a quick read, that will keep you hooked, grab a copy by clicking the book below!