Claire Knight

, my fabulous guest reviewer is off on her murderous travels again with this awesome review of

The Mystery of the Three Orchids

by Italian novelist:

Augusto de Angelis

!  Divertiti, #bookjunkies! I can be cultured too! 😉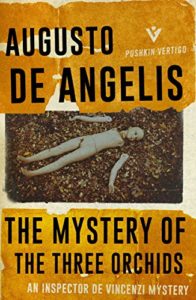 Synopsis:
A new instalment in the most famous series from the father of Italian crime fiction
Death is in the air at one of Milan's great fashion houses. As a new collection is unveiled, and the wealthy rub shoulders with the glamorous, owner Cristiana O'Brian escapes upstairs to discover the strangled body of her servant slumped on her bed – a single orchid by his side.
When Inspector Di Vicenzi is called in to investigate, the brilliant detective is puzzled; why is Cristiana behaving so suspiciously? And what is her estranged ex-husband doing there? As two further corpses appear, each accompanied by an orchid, Di Vicenzi must see through dirty tricks and slippery clues in order to uncover the real killer.
Augusto De Angelis's notorious sleuth returns in a cryptic murder mystery teeming with blackmail, deceit and revenge.
Claire's Rating: 4/5
Claire's Review:
Stella McCartney recently said that "Fashion is really getting away with murder". But I doubt she's read The Mystery of The Three Orchids, an Italian Golden Age murder mystery set in a fashion house in Milan. Will someone in the industry get away with murder??
This is the second novel by the late Augusto De Angelis I've read and it won't be the last. The author's writing despite originating in Italian is similar to the Queen of Golden Age Crime, Dame Agatha Christie. In The Murdered Banker, the previous one I've read, there were a number of nods to Ms Christie in the story and dialogue. The Mystery of the Three Orchids pays less of a homage to De Angelis' British contemporary but the style is of the time and the main sleuth De Vicenza has a similar detection style to Christie's Poirot, saying little and mulling things over.
One of the things that attracts me to this type of murder mystery is the grand reveal at the end with the unveiling of the culprit and the reasons why. I have loved this since I was a child watching the TV adaptations of Poirot with Albert Finney and Peter Ustinov. The whole concept keeps you guessing throughout and then as the sleuth, De Vicenza in this case, talks through the how, all the pieces of the puzzle slot together and you go "oh yeah, why didn't I see that".
If you like reading the novels of Agatha Christie, I highly recommend you give Augusto De Angelis a try.
A big thank you to Pushkin Vertigo for sending me a copy of The Mystery of Three Orchids.
Thanks, Claire for an awesome review! Clicking the book below will take you to amazon if Claire's review has convinced you to check this murder mystery out!