I am over the moon to be taking part in Paul E Hardisty's Reconciliation For The Dead blog tour.  I absolutely LOVE this series and this book….well….OMFG…it blew me away!  My thanks to Anne Cater & Orenda for an ARC and invitation on this blog tour!
About The Author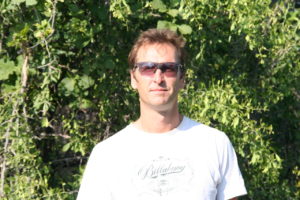 Canadian by birth, Paul has spent 25 years working all over the world as an engineer, hydrologist and environmental scientist. He has rough-necked on oil rigs in Texas, explored for gold in the Arctic, and rehabilitated village water wells in the wilds of Africa. He survived a bomb blast in a café in Sana'a in 1993 and was one of the last westerners out of Yemen before the outbreak of the 1994 civil war. The Abrupt Physics of Dying, his first novel, received great critical acclaim, and was short-listed for the CWA Creasy New Blood Dagger award. The Evolution of Fear, his second novel, will be released early this year. Paul is a university professor and Director of Australia's national water, land and ecosystems research program. He is a pilot, a sailor, a keen outdoorsman, and conservation volunteer. Paul lives in Western Australia.
About The Book
Fresh from events in Yemen and Cyprus, vigilante justice-seeker Claymore Straker returns to South Africa, seeking absolution for the sins of his past. Over four days, he testifies to Desmond Tutu's newly established Truth and Reconciliation Commission, recounting the shattering events that led to his dishonourable discharge and exile, fifteen years earlier. It was 1980. The height of the Cold War. Clay is a young paratrooper in the South African Army, fighting in Angola against the Communist insurgency that threatens to topple the White Apartheid regime. On a patrol deep inside Angola, Clay, and his best friend, Eben Barstow, find themselves enmeshed in a tangled conspiracy that threatens everything they have been taught to believe about war, and the sacrifices that they, and their brothers in arms, are expected to make. Witness and unwitting accomplice to an act of shocking brutality, Clay changes allegiance and finds himself labelled a deserter and accused of high treason, setting him on a journey into the dark, twisted heart of institutionalised hatred, from which no one will emerge unscathed. Exploring true events from one of the most hateful chapters in South African history, Reconciliation for the Dead is a shocking, explosive and gripping thriller from one finest writers in contemporary crime fiction.
My Rating: 

5/5
⭐️⭐️⭐️⭐️⭐️
My Review:
Wow! Wow! Wow!  The Evolution of Fear was one of my favourite reads in 2016. I wondered if the author could match the greatness of this book….well, he didn't….he exceeded it!
We are taken back to South Africa where Straker is reliving events in his past while testifying at the Truth and Reconciliation Commission.  The reader is faced with regrets, loss, promises- both made & broken, how the past/experiences shapes a person, politics, racism, revelations, sadness, truth, lost innocence, death and betrayal….there is just so much!
The plot is complex, compelling, intense and emotive.  Told in separate parts, each section gives us a closer view of the tragedy and reality of a political war on the people.  It is gripping and haunting at the same time.  Parts of this book are fast-paced, while other parts take you by the hand and lead you gently through the atrocity that Straker and the other characters have to face.  It is heart-wrenching in places but beautifully written.
Characters are a strong point in this authors writing. They are diverse, rich in personality and embed themselves into your soul.  Claymore Straker….*sigh*…god I love this guy! Straker is hardened by his past, but has such strong values, morals and convictions – the journey he takes us on is highly emotive and allows us into his psyche. The trial extracts really grab you.  I was blown away…left totally speechless and felt even more drawn to him as a character.  There are just too many characters to mention, as each one delivered something to drive this story forward.
Crowbar is a fantastic character! I was torn at times as I had no clue what his end game was.  The backstory to his friendship with Straker was intriguing and despite reading the other books, I still did not know whether to trust him or not!
Eben…well…what an amazing and inspiring character! He is loyal, has morals and has Straker's back.  He also has an anger within, that boils as he comes across injustice and Straker often has to be the voice of reason.
Vivian was also a superb character! A fiesty, stubborn, strong and determined woman – she wants to save the world. Absolutely adored her!  She may well have been a catalyst in hardening Straker's heart…but no spoilers!
I could definitely go on and talk about Botha, Cobra and every baddie that crossed Straker's path…but you need to feel these characters to get the true picture.  And when they come across your page, boy do you get a right feel for them! Cold, callous, uncaring…almost sociopathic in nature.
This was an intense read, I held my breath as I turned the pages.  The plot was tight, the narrative superb and the reader is right there with Straker — reliving the horror that turned him from a naive, young soldier to the man he is now.  Some of the atrocities he faced…how do you come back from that!? Death surrounded Straker and this book is a testament to the real horrors that existed, that still exist.  I cannot wait to see what is in store for Straker next.
I urge you to grab a copy of this book, this series and see what great writing is all about!  A massive Hell Yeah recommendation from me, click the book below and see exactly what I am talking about!