I am a MASSIVE fan of Angela Marsons, so I am thrilled that my guest reviewer-
Claire Knight

, is hosting the

DEAD SOULS

blog tour today with this awesome review!  Over to Claire now: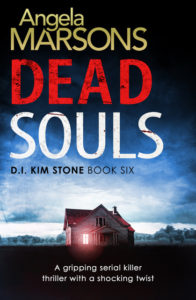 Synopsis:
The truth was dead and buried…until now.
When a collection of human bones is unearthed during a routine archaeological dig, a Black Country field suddenly becomes a complex crime scene for Detective Kim Stone.
As the bones are sorted, it becomes clear that the grave contains more than one victim. The bodies hint at unimaginable horror, bearing the markings of bullet holes and animal traps.
Forced to work alongside Detective Travis, with whom she shares a troubled past, Kim begins to uncover a dark secretive relationship between the families who own the land in which the bodies were found.
But while Kim is immersed in one of the most complicated investigations she's ever led, her team are caught up in a spate of sickening hate crimes. Kim is close to revealing the truth behind the murders, yet soon finds one of her own is in jeopardy – and the clock is ticking. Can she solve the case and save them from grave danger – before it's too late?
Claire's Rating:  5/5
⭐️⭐️⭐️⭐️⭐️
Claire's Review:
When you know there is a new Kim Stone book on its way, it feels like you're returning to familiar and exciting territory.  Kim Stone has a special place in my reading heart; I've been through the mill with her from Silent Scream through the irritation that is Tracy Frost to the terrors of Alex Thorne.  And now we've arrived at Dead Souls, the discovery of historic bones during a forensic anthropology dig on a farm on the border of two police forces.  Kim is forced to work with another team, without  the support of her familiar team and they have to cope without their strong headed inspector.  Will this be a success in police terms?!
As Kim investigates the origins of these random bones, the team are left to deal with hate crime; in this day and age of tolerance, there are a far few people who lack the acceptance of other cultures and make a point of attacking these individuals to various degrees from anonymous messaging to physical attacks.  I personally think Ms Marsons has handled this upsetting subject well highlighting the prejudiced thinking of a minority and that a racist isn't your a-typical skinhead that can be portrayed previously.  It could be your neighbour, your work colleague, the person you sit next to on the bus.  Looks can be deceptive.
And after a leave of absence in Blood Lines, Kim's journalistic nemesis Tracy Frost is back and she's making herself as popular as ever.  However given what happened at the Body Farm in Play Dead (if you've not read it, why not!?), the dynamic between the pair has slightly changed so it will be interesting to see how long this lasts!
With the split of the team, we get to know the characters back at Halesowen. Stacey gets to play more of a part in the story and we learn more about her rather than just her IT skills.
So far Angela Marsons has not disappointed me.  The Kim Stone books keep getting better and better and Dead Souls is no different. I devoured the investigations in little over a day.
Huge thanks to Bookouture and Netgalley for my copy of Dead Souls and also to Kim Nash and Noelle for asking/letting me host the CrimeBookJunkie stop of the Blog Tour.  Just one question – when's book 7 out?!
About The Author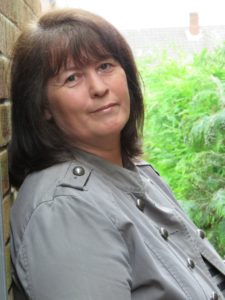 Angela Marsons is the author of the Amazon Bestselling DI Kim Stone series – Silent Scream, Evil Games, Lost Girls, Play Dead, Blood Lines and Dead Souls and her books have sold more than 2 million in 2 years.
She lives in the Black Country with her partner, their cheeky Golden Retriever and a swearing parrot.
She first discovered her love of writing at Junior School when actual lessons came second to watching other people and quietly making up her own stories about them. Her report card invariably read "Angela would do well if she minded her own business as well as she minds other people's".
After years of writing relationship based stories (The Forgotten Woman and Dear Mother) Angela turned to Crime, fictionally speaking of course, and developed a character that refused to go away.
She is signed to Bookouture.com for a total of 16 books in the Kim Stone series and her books have been translated into more than 20 languages.
Her last two books – Blood Lines and Dead Souls – reached the #1 spot on Amazon on pre-orders alone.
Based on that review, I think Claire really liked this book!  I have it waiting ever so patiently on my kindle and cannot wait to get stuck in.  If you have not read any of the DI Kim Stone series–well where have you been?! Easily one of my favourite series, I totally recommend you grab yourself all 6! Click the book below to make your way over to amazon and check out this AWESOME series!